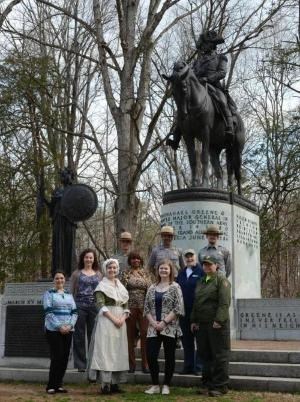 Happy 100th Birthday Guilford Courthouse!
Guilford Courthouse National Military Park celebrates its 100th birthday on March 2, 2017! The park is the first Revolutionary War Battlefield preserved by Congress. You can even buy our commemorative stamp for your park passport book! The park rangers invite you to attend the historical commemorations, living history events, and multiple volunteer service days! You can find your park and your historical interests at Guilford Courthouse through the events listed below.
Explore Revolutionary History
Guided Battlefield Tours
(May 28 – September 3)
Relive the battle by walking across the field with veteran park guide Scott Culclasure and hearing accounts of the fight and stories of the park's monuments. The walk lasts approximately 75 minutes and follows historic New Garden Road through the center of the park. Comfortable walking shoes appropriate for gravel paths and moderate hills and, on hot days, a water bottle are recommended.
A special tour will occur on July 4th at 11:00 AM and 2:00 PM, meet at the Visitor Center.
"Redeemed From Oblivion" Exhibit
(July 1st - September 3rd)
This special outdoor exhibit explores the 100 year history of Guilford Courthouse National Military Park. It is located throughout the park Saturdays and Sundays from Independence Weekend till Labor Day Weekend. Please pick up a guide at the Visitor Center before exploring.
"The World Turned Upside Down," A Megagame Experience
(September 23rd)
Now recruiting 60 players to create teams that take on the historical roles of generals, spies, and government officials during the era of the American Revolution and will have to work together in a dynamic and treacherous historical landscape. See all details and learn how to sign up on our
calendar link
.
Meet with the Rangers
Founder's Day
(August 25)
The National Park Service's Second Century of Stewardship continues, and NPS turns 101!
The 77th National Folk Festival
(September 8-10)
Meet the park rangers under our tent at downtown Greensboro as we celebrate folkways and
great music
!

Living History Demonstrations
Throughout the year we host different living history groups to bring the Revolution to you. Follow our schedule +on our calendar page.
Events for Kids
Every Kid in a Park – Get your passes here!
4
th
grade students are still eligible to receive a FREE "Every Kid in a Park" pass that will allow them and anyone in the vehicle (or three accompanying adults) to visit Federal Lands and Waters for free!
The passes expire August 31, 2017.
Visit
Every Kid in a Park's website
to complete the activity and bring your barcode to our park to receive your pass. Come this Spring so you and your family can travel this Summer!