Annual Park Events
Check out our
Virtual Tours page
for history lessons about the battle!
Note that COVID-19 has canceled several annual interpretive programs, read below and follow our Current Conditions page for the most up-to-date information .
Join Park Rangers and Living History interpreters to explore the Battle of Guilford Courthouse and the American Revolution at these annual events.
The calendar page has more detailed information.
Smaller programs are listed in our calendar and Facebook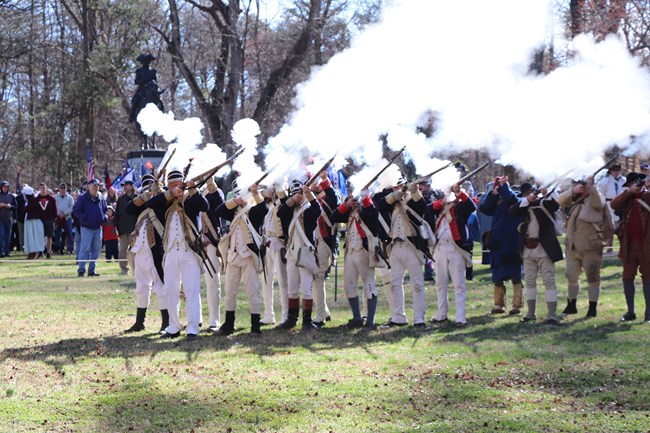 CANCELED DUE TO COVID-19. The Battle of Guilford Courthouse 239th Anniversary, March 14-15, 2020
Guilford Courthouse National Military Park's event is cancelled due to the novel coronavirus (COVID-19). The National Park Service is focused on ensuring employees, their families, volunteers, and visitors are safe by following current guidance from the CDC, OPM, OEM, and other federal, state, and local health authorities. Updates can be found at www.nps.gov/guco and NPS Public Health Update webpage (www.nps.gov/coronavirus)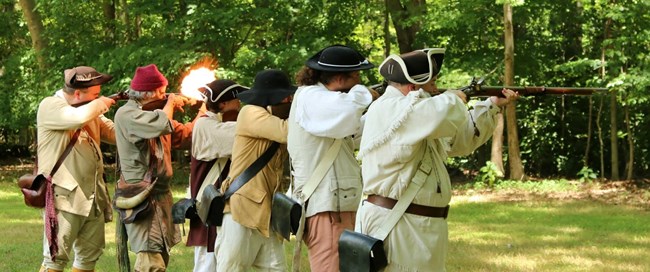 CANCELED DUE TO COVID-19. Memorial Day Weekend, May 23-24, 2020
Visit the Guilford Militia in their encampment at Tour Stop 6 from 10:00AM - 4:00PM each day. Black powder demonstrations will occur at 11:00AM, 1:00PM, and 3:00PM.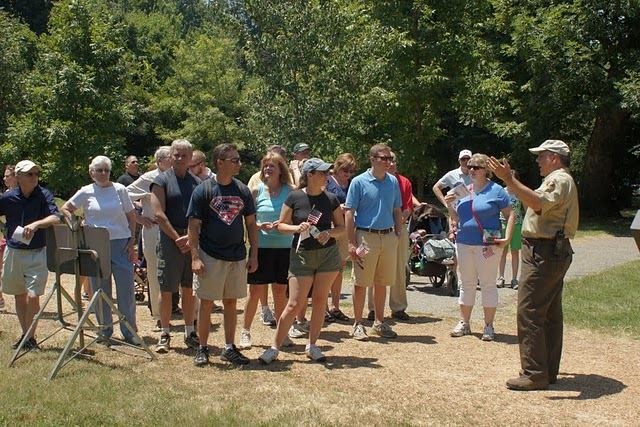 CURRENTLY NOT OFFERED
DUE TO COVID-19 Summer Guided Battlefield Tours
Relive the battle by walking across the field and hearing accounts of the fight and stories of the park's monuments. The walk lasts approximately 75 minutes and follows historic New Garden Road through the center of the park. Comfortable walking shoes appropriate for gravel paths and moderate hills as well as a water bottle are recommended.

Guided tours occur each Saturday and Sunday afternoon from Memorial Day Weekend through Labor Day Weekend, at 2:00PM.

CURRENTLY NOT OFFERED DUE TO COVID-19 : Summer Guided Hoskins Farm Tour
TBA SUMMER 2020 SCHEDULE
Explore life in the 18th century North Carolina backcountry. Join a park docent at the Hoskins Farm Site (2200 New Garden Road), to explore the inside of the historic home and kitchen! Tours last approximately 30 minutes - 1 hour based on questions.
*CANCELED DUE TO COVID-19* Independence

Day

Weekend,

July 4, 2020
Celebrate the patriots who signed the Declaration of Independence and the events that would lead to the American Revolution. Join Park Rangers for interpretive programs and musket firing demonstrations.
Nathanael Greene's Birthday, August 2020
Major General Nathanael Greene's birthday is August 7th. Park rangers will have interpretive programs and the Guilford Battleground Company with local chapters of the Daughters of American Revolution will celebrate the birth of the Commander of the Southern Army. CELEBRATION DATE TBA
Labor Day Weekend September 5-6, 2020
The men and women of the Guilford Militia, an organization of dedicated Revolutionary War enthusiasts, will be presenting a variety of interpretive programs clad in Revolutionary War clothing and carrying the firearms of 1781 while living the life of the 1780's soldier and camp follower. The public is invited to visit with them in their re-created 1781 camp at Tour Stop 6 from 10 AM until 4 PM each day. Black powder demonstrations will occur at 11:00AM, 1:00PM, and 3:00PM.
Constitution Day, September 17, 2020
Constitution Day is September 17, 2020, and during Constitution Week we will have interpretive programs about the Constitution, and the work of the Founding Fathers to create the Constitution. Come celebrate the ratification with local Daughters of the American Revolution chapters and Park Rangers at the Battlefield Vistiors Center with a bell ringing on the 17th.
"History of the American Soldier" Timeline, November 7, 2020
History of the American Soldier is our Veterans Day program, where living history interpreters form a historic timeline of soldiers from American conflicts ranging from the French and Indian War, Revolutionary War, Civil War, Korean War, Vietnam War, and 20th century conflicts. This program takes place at Tour Stop 8 from 10:00 AM - 4:00PM.
Last updated: July 2, 2020