Annual Park Events
Annual Events at Guilford Courthouse
Join Park Rangers and Living History interpreters to explore the Battle of Guilford Courthouse and the American Revolution at these annual events.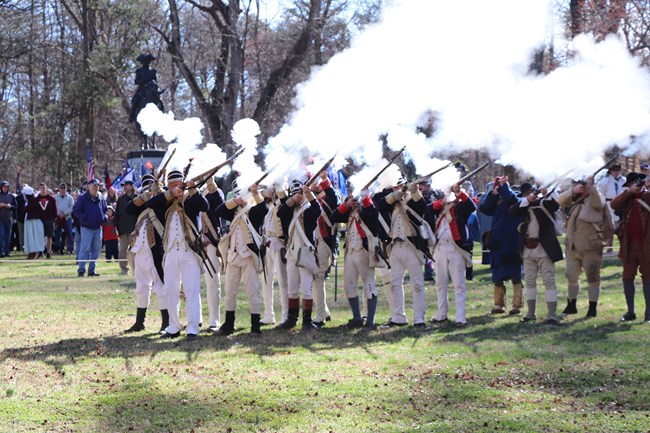 The Battle of Guilford Courthouse
Anniversary Wreath Laying Ceremony
Wednesday, March 15, 2023
Co hosted by the National Park Service, Sons of the American Revolution and the Daughters of the American Revolution.
Formal Ceremony begins at 11:00 a.m. at the Nathanael Greene Monument near Tour Stop 8.
Procession from the Visitor Center to the monument beins at 10:45 a.m.

Parking at Stop 8 is limited, and participants are encouraged to park at Tour Stop 3, the Visitor Center, and the lot adjacent to the site on Old Battleground Road.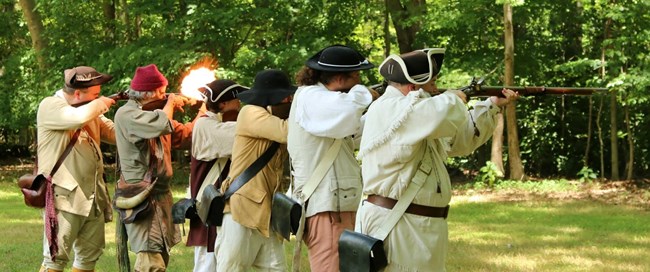 Memorial Day Weekend, May 27-28, 2023
Visit the Guilford Militia in their encampment at Tour Stop 6 from 10:00AM - 4:00PM each day. Musket demonstrations will occur at 11:00AM, 1:00PM, and 3:00PM.
Independence

Day

Weekend,

July 1-2 &4th 2023
Celebrate the patriots who signed the Declaration of Independence and the events that would lead to the American Revolution. Join Park Rangers for interpretive programs and musket and cannon firing demonstrations.

July 1-2, & 4th (Saturday, Sunday, and Tuesday)
Musket Demonstration at Tour Stop 6 (11:00, 1:00, 3:00)
Guided Battlefield Tours beginning at Visitor Center (1:30, 3:00)

July 4th Additional Events (Tuesday)

10:00 a.m. Signers of the Declaration memorial program at the Signer's Monument

10 a.m. to Noon (and 2 p.m. to 4 p.m.) Sign the Declaration of Independence and learn about the document in the Visitor Center

11:30 a.m. (and 2:30 p.m.) Divided Loyalties Program near the Greene Monument. Learn about historical figures and try to guess whether they will join the cause of independence or remain loyal to the crown.

Noon Fife and Drum Concert at the Visitor Center.


Nathanael Greene's Birthday, August 5, 2023
Major General Nathanael Greene's birthday is August 7th. Park rangers will have interpretive programs and the Guilford Battleground Company will celebrate the birth of the Commander of the Southern Army. CELEBRATION DATE Saturday, August 5, 2023.
Schedule of Events
10 a.m. to 12 a.m. Visitor Center
Guilford Fife and Drum Core providing musical demonstrations and interpretation.
11 a.m. to 11:30 a.m. Visitor Center Theater
Interpetive talk on the career of General Nathanael Greene.
11 a.m., 1 p.m. and 3 p.m. Nathanael Greene Monument/ Tour Stop 8
Musket demonstrations and historic weapons interpretation.
Last updated: September 27, 2023