Annual Park Events
Annual Events at Guilford Courthouse
Join Park Rangers and Living History interpreters to explore the Battle of Guilford Courthouse and the American Revolution at these annual events. The calendar page features in depth details about the events of the day.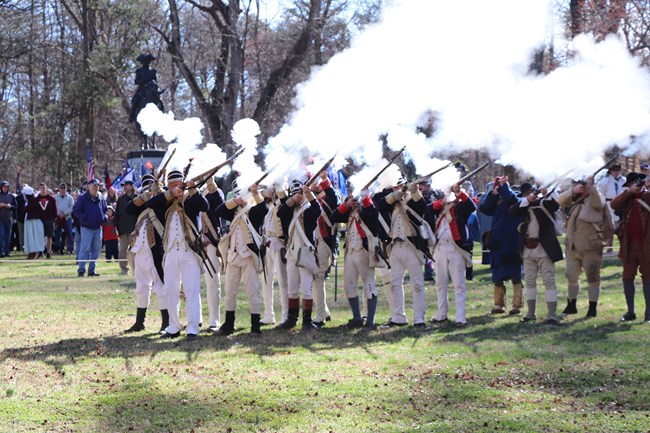 The Battle of Guilford Courthouse 240th Anniversary, March 13-15, 2021
Guilford Courthouse National Military Park's 240th Anniversary of the Battle will be digital and in-person. Digital content such as author talks, short Park Ranger videos, and the Sons of the American Revolution wreath laying ceremony will be available on our new YouTube page and Facebook page. In-person tours will be available on a ticketed (free) basis to comply with COVID-19 crowd safety measures.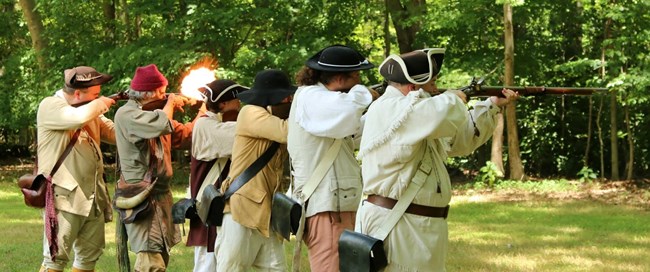 Memorial Day Weekend, May 28-29, 2022
Visit the Guilford Militia in their encampment at Tour Stop 6 from 10:00AM - 4:00PM each day. Black powder demonstrations will occur at 11:00AM, 1:00PM, and 3:00PM.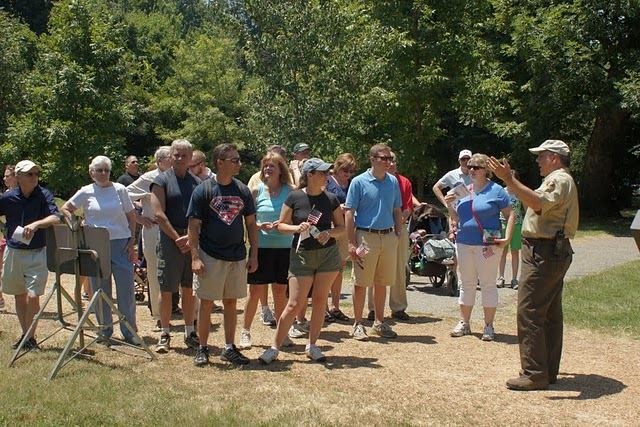 Summer Guided Battlefield Tours, Summer 2022
Relive the battle by walking across the field and hearing accounts of the fight and stories of the park's monuments. The walk lasts approximately 75 minutes and follows historic New Garden Road through the center of the park. Comfortable walking shoes appropriate for gravel paths and moderate hills as well as a water bottle are recommended.

Guided tours occur each Saturday and Sunday afternoon from Memorial Day Weekend through Labor Day Weekend, at 1:30PM and 3:00PM.

*CANCELED DUE TO COVID-19* Independence

Day

Weekend,

July 4, 2020
Celebrate the patriots who signed the Declaration of Independence and the events that would lead to the American Revolution. Join Park Rangers for interpretive programs and musket firing demonstrations.
Nathanael Greene's Birthday, August 2020
Major General Nathanael Greene's birthday is August 7th. Park rangers will have interpretive programs and the Guilford Battleground Company with local chapters of the Daughters of American Revolution will celebrate the birth of the Commander of the Southern Army. CELEBRATION DATE TBA
Last updated: May 7, 2022