Not So Junior Ranger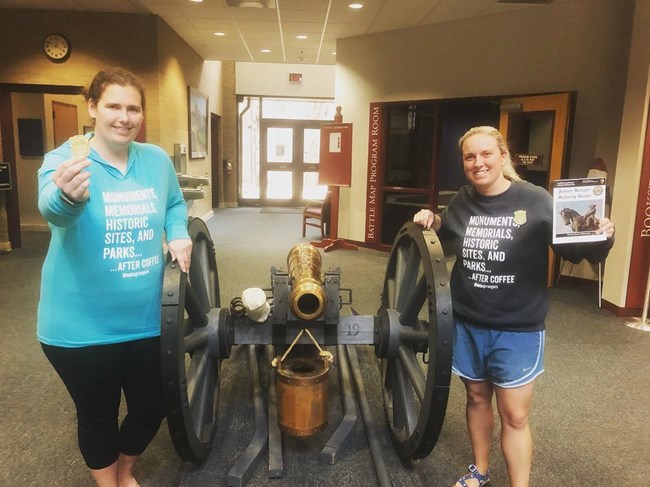 You don't have to be a kid to get a Junior Ranger Badge
Calling all NPS Nerds! This "Not So Junior Ranger" book takes young adults and adults deep into our museum and battlefield on an exploration fit for any National Park fan.
Our park rangers saw how many adults wanted to get their own Junior Ranger badge, but we wanted to give you a program designed to help you truly explore how the Battle of Guilford Courthouse took place. Ask for a booklet at the front desk of the Visitor Center. You'll explore our museum for answers, and then take to the battlefield to complete a crossword puzzle!
To give you a taste of some of the questions, check them out below! You'll find the answers to the questions in our museum exhibit, our online movie
Another Such Victory
, and on the battlefield.
Teaser Not So Junior Ranger Questions
Explore the Museum
What was the primary role of women in the Carolinas in the 1770s? How did this differ from a woman's role in the army?
What setback did Cornwallis and Tarleton experience on January 17, 1781?
What nationalities of soldiers did Lord Cornwallis command?
The average soldier requires 2.5lbs of food per day. General Greene commanded 4,400 men. A large covered wagon can carry up to 2,000lbs of supplies. If you were to try and carry all the food your army would need for a week, how much food would that be and how many wagons do you need?
Look at the musket balls in the "Artifacts Found on the Battlefield" case. Why are some flattened and some round?
Last updated: January 18, 2021