Moose District FAQs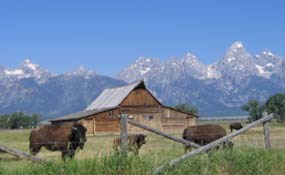 Frequently asked questions and answers!
When did the Craig Thomas Discovery and Visitor Center (CTDVC) open? On August 11, 2007

Who was the late Craig Thomas? He was a U.S. Senator from Wyoming for twelve years. He passed away June 4, 2007. As chair of the National Parks Subcommittee, he authored legislation that helped support the National Park Service.

When was the park established? The park's history is a tricky question. In 1929, the original park protected much of the Teton Range. In 1943, the creation of Jackson Hole National Monument protected the remaining federal land on the valley floor. In 1950, the park we enjoy today joined the original national park, the national monument, and 35,000 acres of private land donated by John D. Rockefeller, Jr.

Are there bears in the park? Yes, both black and grizzly bears, but don't be tricked! Black bears may be blonde, cinnamon, brown or black, and grizzly bears may be brown to black. Ask a ranger for all the details. Please follow the park's Bear Safety recommendations.

Where can I find wildlife? Dawn and dusk are the best times to view wildlife from your car along most park roads. Many large animals seek shade during the heat of the day and come out in the cool of the day. Bison and pronghorn are active throughout the day and you may see them along the Antelope Flats to Kelly loop road.

Do people climb those mountains? Yes, but most mountains require technical rock climbing skills to reach the summit. The Grand Teton has nearly 100 different climbing routes and variations.

Where does the Snake River start? The headwaters are in the Teton Wilderness just south of Yellowstone National Park. Where does it end? The Snake River flows into the Columbia River in Washington. Portions of the Snake River were designated "Wild and Scenic" in 2009.

Where is "the barn" I have seen in photographs? Travel north of Moose about 1 mile on US Hwy 26, 89, 191 and drive east on Antelope Flats Road about 1.5 miles to Mormon Row. Brothers John Moulton and T.A. Moulton built iconic barns photographed countless times as iconic cultural foregrounds for the Teton Range.

Where did Ansel Adams take his famous picture of the Snake River? The Snake River Overlook on US Hwy 26, 89, 191 about 8.5 miles north of Moose Junction. He took his picture in 1942, so the view is a little bit different today!
Last updated: April 2, 2015