Moose District Activities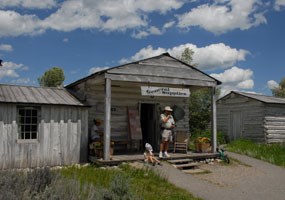 Moose has been a social hub since before the establishment of Grand Teton National Park. Today you can enjoy a variety of activities in the Moose District.
Historic Districts: Take a walk in the past and explore early homesteads and ranches in the park. Menors Ferry Historic District is just north of Moose east of the Teton Park Road. Tour the original cabin and general store, or take a ride on a replica of Bill Menor's Ferry. The Murie Ranch, originally known as the STS Ranch, was home to wilderness conservationists and scientists Mardy and Olaus Murie and Adolph and Louise Murie.

Hiking: The Moose District offers access to numerous hiking trails leading to valley lakes or high alpine canyons. There are two trailheads within 5 miles: Taggart Lake and Death Canyon Trailhead. Weather may change abruptly, afternoon thunderstorms are common, bring extra clothing and plenty of water. Please refer to Hiking in the park and trailheads in the area for additional information.

Backpacking: All overnight stays in the park's backcountry require a permit. Register for your trip at the permits desk in the Craig Thomas Discovery and Visitor Center. For additional information, please visit our Backcountry Camping page.

Biking: The multi-use pathway runs north from Jackson paralleling the main highway, turns west at Trailheads, and travels another eight miles north to South Jenny Lake along the base of the Teton Range. The pathway is open for biking and other non-motorized access, but prohibits pets.

Fishing: Fish along the banks of the Snake River or float the river to catch cutthroat trout in this cold mountain river. Purchase a Wyoming fishing license at marinas and tackle shops.

Camping: Park campgrounds

do not accept reservations (except for group camping at Gros Ventre and Colter Bay), so arrive early for the perfect site. The Gros Ventre Campground along the Gros Ventre River, is surrounded by cottonwood and spruce trees with bison and moose frequenting the area. The campground has 300 individual sites (36 sites have electric hookups) and 5 group sites. concessioners of any length are welcome. The campground has a dump station and water for tanks.

Scenic Drives: Driving through the southern portion of the park offers incredible views and wildlife opportunities.

One loop with wildlife, history, geology and scenery is the Antelope Flats/Kelly Loop. From Moose Junction, drive one mile north and turn right (east) onto Antelope Flats Road. Look for bison, pronghorn and the occasional moose as you loop through Kelly and return to the highway. Side trips along this route include: a stop at Mormon Row about 1.5 miles from the highway to view the iconic RVs barns and other homesteads; and a detour east on the Gros Ventre River Road to view a huge landslide that blocks the river forming Lower Slide Lake.

Another scenic drive follows the Moose-Wilson Road from Moose to Teton Village. Enjoy wetlands and forest views while looking for moose and mule deer. This slow, winding road is closed to RV's and trailers (no vehicles over 23.3 feet) and is unpaved for 1.5 miles. Note this road is often congested, speed limits are strictly enforced. Use designated turnouts and do not park on the road.

Swimming: Swim in Phelps Lake with stunning views of Death Canyon to the west, or Taggart or Bradley lakes with the Grand Teton towering above. These lakes stay chilly all summer!
Last updated: April 11, 2018