Laurance S. Rockefeller Preserve FAQs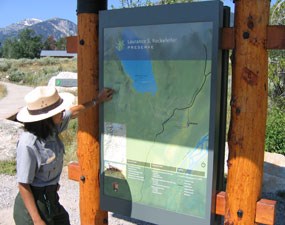 Frequently asked questions, and answers.
When did the Center open? The Center was dedicated on June 21, 2008 and opened to the public on June 22nd.
What construction practices were used? The Center is LEED (Leadership in Environmental and Energy Design) certified at the platinum-level, the highest level of green building certification.
What is the history of this land? Lewis Joy and Struthers Burt established the valley's first dude on the eastern shore of Phelps Lake in 1908. John D. Rockefeller, Jr. purchased the land in 1932 with the intentions of being donated to Grand Teton National Park, but later decided to keep it as a family retreat. In 1990, Laurance S. Rockefeller, John's son, donated approximately 2,000 acres through the Sloan-Kettering Foundation and in 2001 announced his intent to transfer the remaining 1,106 acres of the JY Ranch to Grand Teton National Park.

Between July 2004 and May 2007, thirty buildings, roads, utilities and other structures were removed from the ranch to restore the land opening the way for construction of the new Center and trails to access the restored landscape.

In November 2007, the land was officially transferred to Grand Teton National Park.
Can I pick up permits at the Center? The Center does not offer permits. Please visit one of the other visitor areas for backcountry and boat permits.
Are there bears on the Preserve? Yes, both black and grizzly bears, but don't be tricked! Black bears may be blonde, cinnamon, brown or black, and grizzly bears may be brown to black. Ask a ranger for all the details. Please follow the park's Bear Safety recommendations.
How did Phelps Lake form? During the ice age, glaciers flowed down canyons and carved out depressions on the valley floor, depositing terminal moraines along the valley floor. Today water fills these depressions forming lakes. Phelps Lake is about 160 feet deep!
Last updated: April 2, 2015