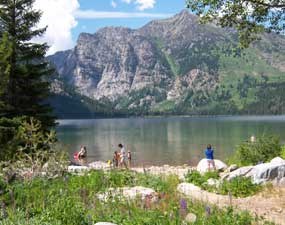 Until recently, the Preserve was the refuge for the Rockefeller family. Today you can seek your own solitude hiking the trails, sitting by Phelps Lake or exploring the Center.
Hiking

: The Preserve offers an 8-mile trail network that provides access to the extraordinary views of Phelps Lake, Death Canyon and the Teton Range.

Fishing

: Fish from the shores of secluded Phelps Lake. Purchase a Wyoming fishing license at marinas and tackle shops. Be sure to wash your gear using the wash station located in the parking lot area to avoid the spread of any aquatic nuisance species.
Camping: There are no campgrounds in the Preserve, but there are three backcountry campsites on the north end of Phelps Lake. Backcountry campers may not park there cars at the Preserve Center overnight.
Wildlife Viewing: Many animals frequent the Preserve. Watch for moose, bears, mule deer, eagles, owls, and a wide variety of other birds.

Scenic Drives

: Follow the Moose-Wilson road from Moose to Teton Village, passing the Laurance S. Rockefeller Preserve. Enjoy wetlands and forests while looking for moose, elk and mule deer along the way. This slow, winding road has a 1.5 mile dirt road section and is closed to RVs and trailers, any vehicle over 280 inches in length. Note this road is often congested, speed limits are strictly enforced. Use designated turnouts and do not park on the road.

Swimming: Swim in the chilly mountain waters of Phelps Lake.