Jenny Lake District Activities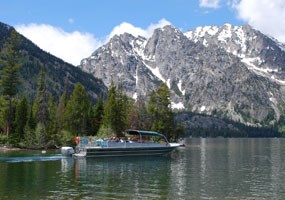 The Jenny Lake area is undergoing rehabilitation. Work began in 2014 and will continue into 2018. Please visit the Jenny Lake Renewal Project page for more information about access and facilities.

Jenny Lake has drawn visitors since before the establishment of Grand Teton National Park. Today you can enjoy a variety of activities in the Jenny Lake District.
Hiking: The Jenny Lake District provides outstanding hikes to lakes, into canyons, and along creeks with close-up views of the central Tetons. There are four trailheads within 5 miles with hikes ranging from easy to strenuous, and from the valley floor to the alpine. Weather may change abruptly, afternoon thunderstorms are common, bring extra clothing and plenty of water. Please refer to Hiking in the park, Day Hike brochure, and Trailheads in the area for additional information.

Backpacking: All overnight stays in the park's backcountry require a permit. Register for your trip at the Jenny Lake Ranger Station (open mid-May through late-September). For additional information, please visit our Backcountry Camping page.

Biking: The multi-use pathway departs from South Jenny Lake and travels eight miles south along the base of the Teton Range to Dornan's at Moose; open to bikes and other non-motorized transportation.

Boating: Rent a canoe or kayak from Jenny Lake Boating, or launch your own boat (≤10 hp) to enjoy the lake at your own pace. A boat permit is required. Sailboats and wind-surfers are not allowed on Jenny Lake, but may be used on Jackson Lake. For greater solitude, launch your non-motorized boat on String Lake and portage to Leigh Lake for spectacular views of Mt. Moran.

Fishing: Fish from the lakeshore or a boat to catch cutthroat and lake trout lurking in the cold mountain water. Even though Cottonwood Creek below the lake outlet looks like a great fishing spot, it is off-limits. Cottonwood Creek downstream of the Exum Bridge is open to fishing August 1 through October 31. Purchase a Wyoming fishing license at marinas and tackle shops.

Camping: Park campgrounds do not accept reservations (except for group camping), so arrive early for the perfect site. The Jenny Lake Campground provides a quiet escape at day's end, but it often fills by 9 a.m. Limited to 50 tents, it is a short walk from the lakeshore with views of Teewinot towering above. North on the Teton Park Road nine miles from South Jenny Lake, is the Signal Mountain Campground. This campground has 81 sites for tents and RVs up to 30 feet in length, and often fills by noon. With views of Jackson Lake and the Teton Range and proximity to the Signal Mountain Lodge this campground provides convenient recreation and relaxation.

Scenic Drives: Driving through Grand Teton National Park provides scenic views at every bend. Two notable scenic drives in the Jenny Lake District include the Jenny Lake scenic loop and the Signal Mountain Summit road. To reach the Scenic Loop, follow the Teton Park Road north from South Jenny Lake Junction to North Jenny Lake Junction. Turn left and enjoy the scenic 4-mile loop back to the Teton Park Road, a portion of this drive is one-way. Stop at the Cathedral Group Turnout and the Jenny Lake Overlook for stunning views. To reach the summit of Signal Mountain, continue north on the Teton Park Road about nine miles from South Jenny Lake and turn right on the Signal Mountain Road. This five-mile long winding road offers two viewpoints near the top overlooking Jackson Hole with panoramic views of the surrounding mountains.

Swimming: Swim in the seasonally warm String Lake, or brave the cold waters of Jenny & Leigh lakes. When swimming in Jenny Lake, use caution by avoiding boat docks.
Last updated: December 7, 2016