Colter Bay Trip Planner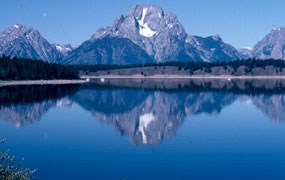 Explore the Colter Bay District in northern Grand Teton National Park, 25 miles north of Moose and 20 miles south of Yellowstone National Park. Enjoy a variety of trails, activities, scenic drives and ranger programs as well as stunning views of the Teton Range across Jackson Lake. Visit the Colter Bay Visitor Center for trip planning information and new exhibits. The renovated visitor center includes 35 items from the David T. Vernon Collection that have never been on display before, geology and climate interpretive panels on the back deck, and new orientation displays. Stop by the Flagg Ranch Information Station located 17 miles north of Colter Bay for a quick overview of the park. Hike along the shores of Jackson Lake or venture to Grand View Point above Two Ocean and Emma Matilda lakes. Drive scenic roads looking for wildlife or the mountains reflected in the Snake River or Jackson Lake during morning calm. For a cozy evening of camping, pitch your tent or park your RV at the Colter Bay or Lizard Creek campgrounds, or hook-up your rig at the Colter Bay RV Park. The Colter Bay area remains car-accessible year-round, but the visitor center is only open from early May to early October.
Click on the links below for additional information.
Colter Bay District activities
Last updated: September 9, 2016