Colter Bay District Trails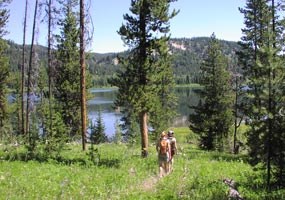 If you wish to spend your day hiking, there are several trailheads in the Colter Bay District with hikes ranging from easy to moderate/strenuous.
Hermitage Point trailhead: Access the trailhead from the south end of the Colter Bay parking lot. A network of trails rolls through lodgepole forests, sagebrush meadows and wetlands near Jackson Lake, or take the old wagon road and trek to Jackson Lake Lodge.
(topographic map, Google Earth map)

Jackson Lake Lodge trailhead: Drive 5.5 miles south of Colter Bay to the Jackson Lake Lodge. Hike east to access Christian Pond loop or hike to the top of Grand View Point with views of many lakes.

Two Ocean Lake trailhead: Drive 13.5 miles south and east of Colter Bay up Pacific Creek Road to the east shore of Two Ocean Lake. A maze of loop or out and back trails wrap around Two Ocean and Emma Matilda lakes including a 360° vista from Grand View Point.
(topographic map, Google Earth map)

Flagg Ranch trailhead: Drive 16.5 miles north of Colter Bay on the US 89, 191, 287 to Flagg Ranch. Follow the Polecat Creek Loop Trail for wetland wildlife or along the Flagg Canyon trail for spectacular views of the upper Snake River.
Last updated: April 2, 2015