Colter Bay Activities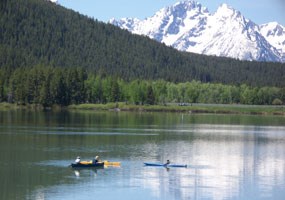 Colter Bay District provides some of the best wildlife viewing opportunities in the park as well as a wide range of visitor services and trails.
Hiking: The Colter Bay District offers access to numerous hiking trails winding along the shores of Jackson, Two Ocean or Emma Matilda lakes, or venture north along the Snake River at Flagg Ranch. There are four nearby trailheads: Hermitage Point, Flagg Ranch, Jackson Lake Lodge and Two Ocean. Weather may change abruptly, afternoon thunderstorms are common, bring extra clothing and plenty of water. Please refer to Hiking in the park and Trailheads in the district for additional information.

Backpacking: All overnight stays in the park's backcountry require a permit. Register for your trip at the permits desk at the Colter Bay Visitor Center. Bear-resistant food storage canisters are available for your use where needed. For additional information, please visit our Backcountry Camping page.

Floating the Snake: A number of private companies offer float trips on the Snake River. You may also boat the river in your own boat. There are several launch sites along the river with varying degrees of difficulty. Find out more information and purchase a permit at the Colter Bay Permits Office.

Fishing: Fish along the banks of the Snake River or float the river to catch cutthroat trout in this cold mountain river; or throw your line into Jackson Lake from the shore or a boat to catch lake or cutthroat trout. Purchase a Wyoming fishing license at marinas and tackle shops.

Camping: Park campgrounds (without hookups) do not accept reservations (except for group camping at Gros Ventre and Colter Bay), so arrive early for the perfect site. The Colter Bay RV Park with 112 RV sites accepts reservations; contact the Grand Teton Lodge Company. The Colter Bay Campground sits above Jackson Lake in a lodgepole forest. The campground has 335 individual sites (including 13 with electric hookups) and 11 group sites. The campground can accommodate RVs of any length and has a dump station and water for tanks. The Lizard Creek Campground is 9 miles north of Colter Bay looking south over Jackson Lake. The campground has 60 individual sites and can accommodate vehicles up to 30 feet in length. The Headwaters Campground & RV sites at Flagg Ranch is located 16 miles north of Colter Bay and accepts reservations.

Scenic Drives: Driving through the northern portion of the park offers incredible views and wildlife opportunities. The highway north of Moran Junction passes Oxbow Bend before reaching Jackson Lake Junction. Turn west to view Jackson Lake Dam or continue north toward Jackson Lake Lodge. Continuing north from Colter Bay, the highway offers panoramic views of the northern Teton Range and Jackson Lake before you ascend Huckleberry Hill and drop into Flagg Ranch.

Swimming: Swim at the Colter Bay swim beach with stunning views of Mount Moran to the west, or enjoy the seclusion of Two Ocean or Emma Matilda lakes. These lakes stay chilly all summer!
Last updated: August 28, 2019