Camping in Bear Country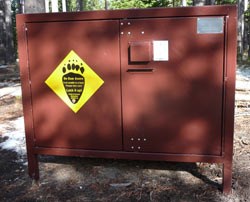 Bears can be anywhere in the park at any time, even if you cannot see them. Odors attract bears into campgrounds and picnic areas. When not in immediate use, all food, drinks, garbage, toiletries, cookware (clean or dirty), stoves, grills, coolers and food containers (empty or full), pet food/bowls, and any odorous item, must be kept in a bear-resistant food storage locker or in a hard-sided vehicle with doors locked and windows closed, day and night. Only have the food out that you are actually using; if you are not using it, put it back into your food storage locker or hard-sided vehicle with the windows closed.
Watch our video podcast to learn more about proper food storage.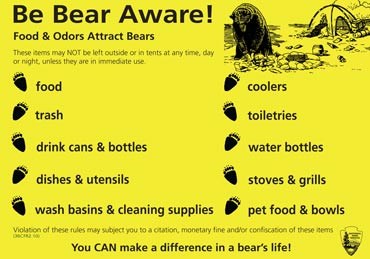 Read the Be Bear Aware! Placard
Keep a clean camp! Improperly stored or unattended food will be confiscated and you could be fined
Treat odorous products such as soap, toothpaste, fuel products, suntan lotion, and bug spray in the same manner as food
Never store food, garbage or toiletries in tents or sleeping bags
Place all trash in bear-resistant garbage dumpsters
Pets must be kept under physical restraint and never left unattended
Immediately report careless campers nearby and all bear sightings to the campground kiosk or nearest ranger
---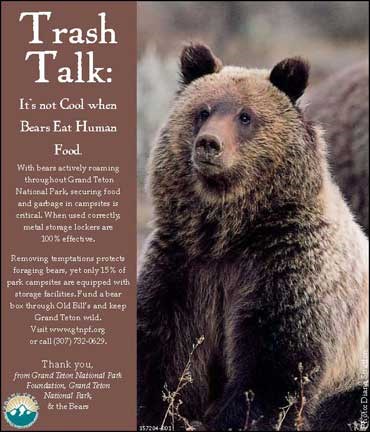 Care about Bears? Join the Bear Box Campaign.
Grand Teton National Park and the Grand Teton National Park Foundation have mounted an important campaign to make food storage lockers available to all front-country campers for safety and convenience. Learn more>>
Become a Grand Teton National Park Foundation member>>
Read the "Trash Talk" advertisement>>
---
Never approach a bear.
Never feed a bear.
Stay 100 yards (1 football field) from bears at all times.
Last updated: December 8, 2016