Recreating in Bear Country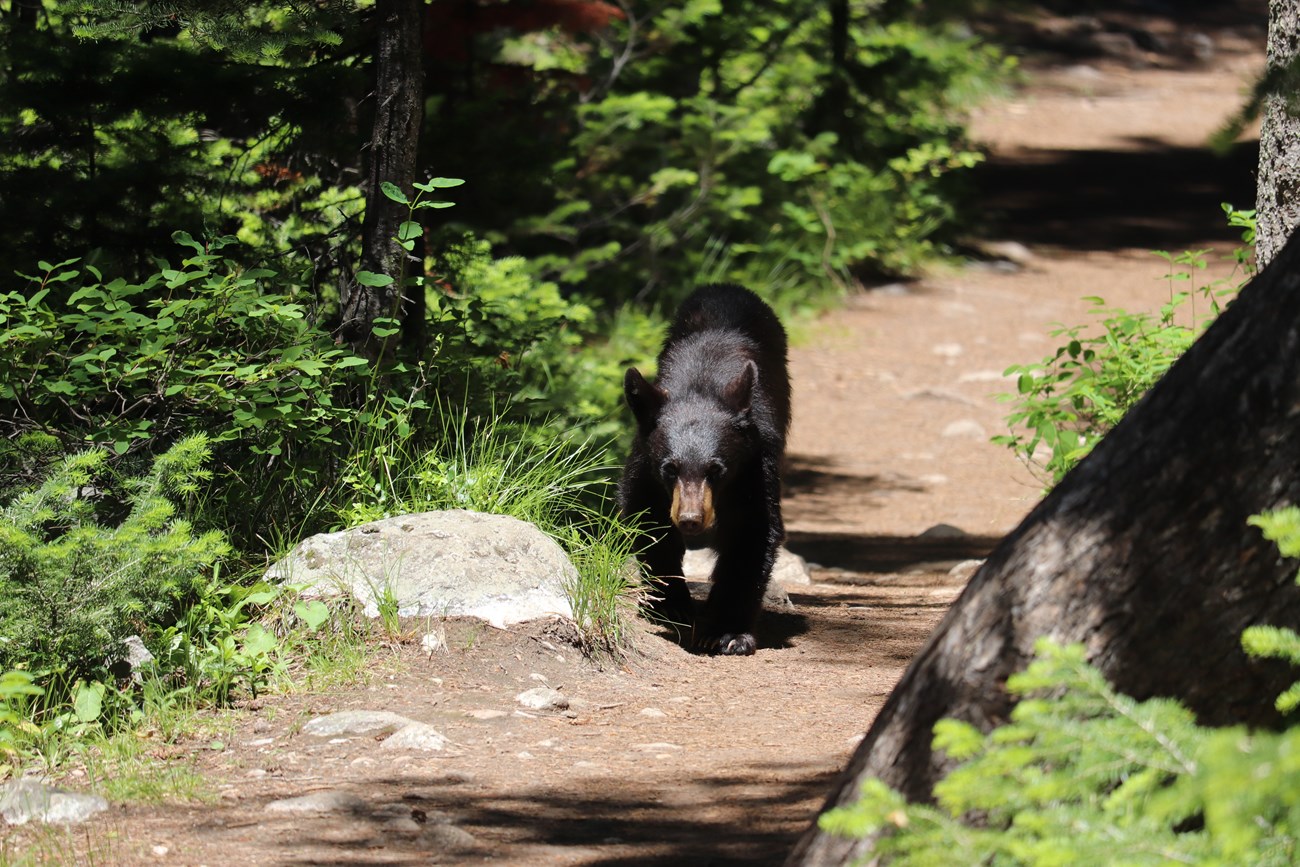 Bears can be found in all areas of the park at any time. When recreating in Grand Teton, it's important to stay alert and be prepared to encounter a bear, no matter where you are.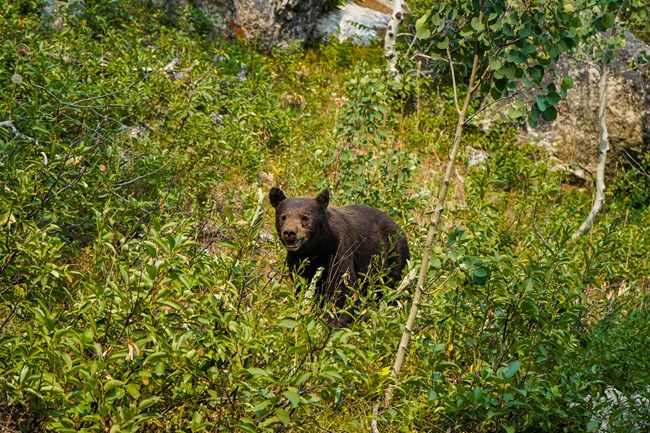 Hiking in Bear Country
Black and grizzly bears live throughout the park. Some of the most popular trails travel through excellent bear habitat and it is alway possible to encounter a bear when hiking. Bears occasionally use trails to travel on - just because a bear is on a trail doesn't mean it's aggressive.

Bears will usually move out of the way if they hear people approaching, so make noise. A surprised bear is more likely to act defensively. Bear bells are often not sufficient. Calling out (try saying "Hey Bear") and clapping your hands at regular intervals are better ways to make your presence known.

Some trail conditions make it hard for bears to hear, see, or smell approaching hikers. Be particularly careful near streams, when it's windy, in dense vegetation, or in any circumstance that limits line of sight (e.g. a blind corner or rise in the trail).
Never intentionally get close to a bear. Individual bears have their own personal space requirements that vary depending on their mood. Each bear will react differently and a bear's behavior cannot be predicted. All bears are wild and dangerous and should be respected equally.
Keep children close by. Hike in groups and avoid hiking early in the morning, late in the day, or after dark. The use of personal audio devices is strongly discouraged.
Keep your pack with you at all times. It's ok to bring food while day hiking, but make sure to keep it with you at all times. Never allow a bear to get human food. If approached by a bear while eating, put food away and retreat to a safe distance. Never throw your pack or food at a bear in an attempt to distract it, or abandon food because of an approaching bear. Always take the food with you. Bears that receive human foods often become aggressive and must be killed.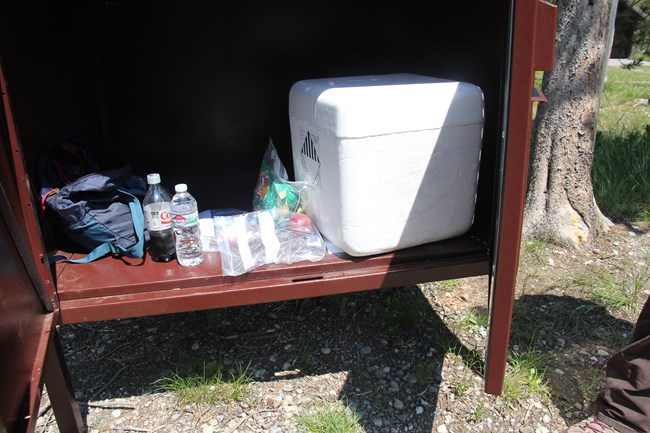 Camping in Bear Country
Bears live throughout the park, even near developed areas and campgrounds. Odors can attract bears into campgrounds and picnic areas.

When not in immediate use, all ordorous items must be kept in a bear-resistant food storage locker or in a hard-sided vehicle with doors locked and windows closed, day and night. Items include: food, drinks, garbage, toiletries, clean and dirty cookware, stoves, grills, coolers, empty or full food containers, pet food and bowls, and any other odorous item.

When preparing or eating food, only have the food out that you are actually using; if you are not using it, put it back into your food storage locker or hard-sided vehicle with the windows closed.

If a bear approaches your camp, gather all food items and take them with you. Never leave food out or throw food at a bear to attract or distract it. Bears that receive human food can become aggressive and may have to be put down.

Keep a clean camp. Improperly stored or unattended food will be confiscated and you could be fined.
Treat odorous products such as soap, toothpaste, fuel products, sunblock lotion, and bug spray in the same manner as food.
Never store food, garbage, or toiletries in tents or sleeping bags
Place all trash in bear-resistant garbage dumpsters.
Pets must be kept under physical restraint and never left unattended.
Immediately report careless campers nearby and all bear sightings to the campground kiosk or nearest ranger.
Backcountry Camping
The backcountry of Grand Teton is home to a variety of animals, bears included. Bears can be present on trails and in campsites. Stay alert when hiking or around camp.

Keep your food close and store anything not in immediate use. Store your bear-resistent food container away from camp. Keep anything ordorous in the food container: do not store anything containing an odor in your tent.

Allowing a bear to obtain human food, even once, often results in aggressive behavior. An aggressive bear is a threat to human safety and must be killed.
Food Storage Regulations
As of April 2011, regardless of elevation, backpackers will be required to use approved bear-resistant canisters except where food storage boxes are provided. Food storage boxes are only available at lakeshore backcountry sites. On some specific alpine routes where a climber is bivouacing on a high rocky ledge and bears cannot go, park-approved bear canisters may not be required.

All food, garbage, toiletries and any odorous item that may attract a bear must be stored in an Interagency Grizzly Bear Committee (IGBC) approved bear-resistant food canister when not in immediate use, day and night.

Bear canisters are available for use in the park for free at backcountry permitting locations.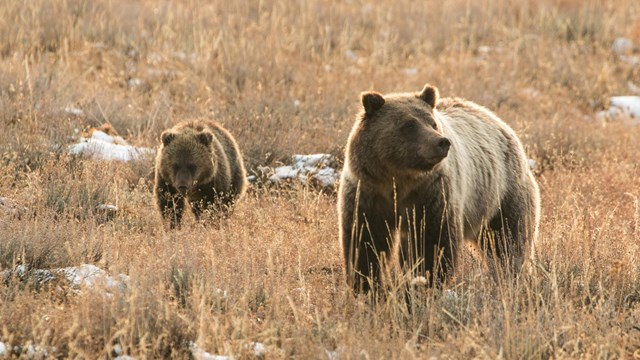 Bear and Wildlife Safety
Learn how to stay safe in bear country.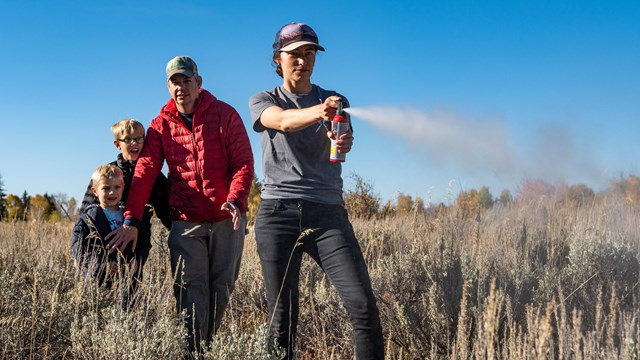 Bear Encounters
Learn what to do when encountering a bear, and how to use bear spray.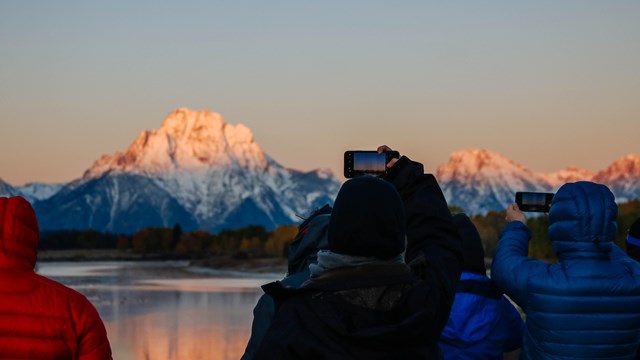 Plan Your Visit
Learn more about Grand Teton and plan your trip here.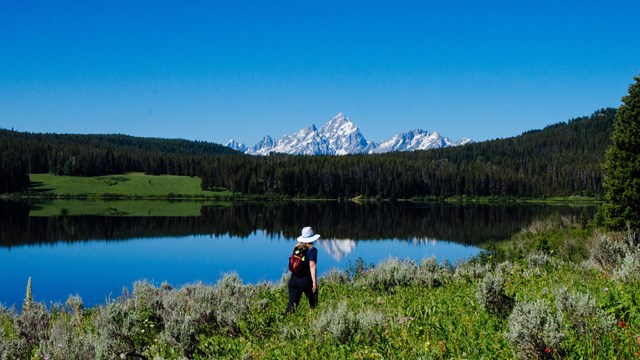 Things to Do
Find things to do while in Grand Teton.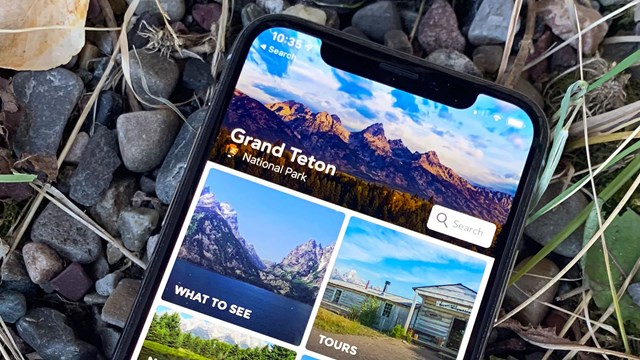 We have an app for that
Download the NPS App before you get here! Explore Grand Teton and discover places to visit, find a bite to eat, and a place to stay.
Last updated: June 13, 2022