American Indian Guest Artist Program at Colter Bay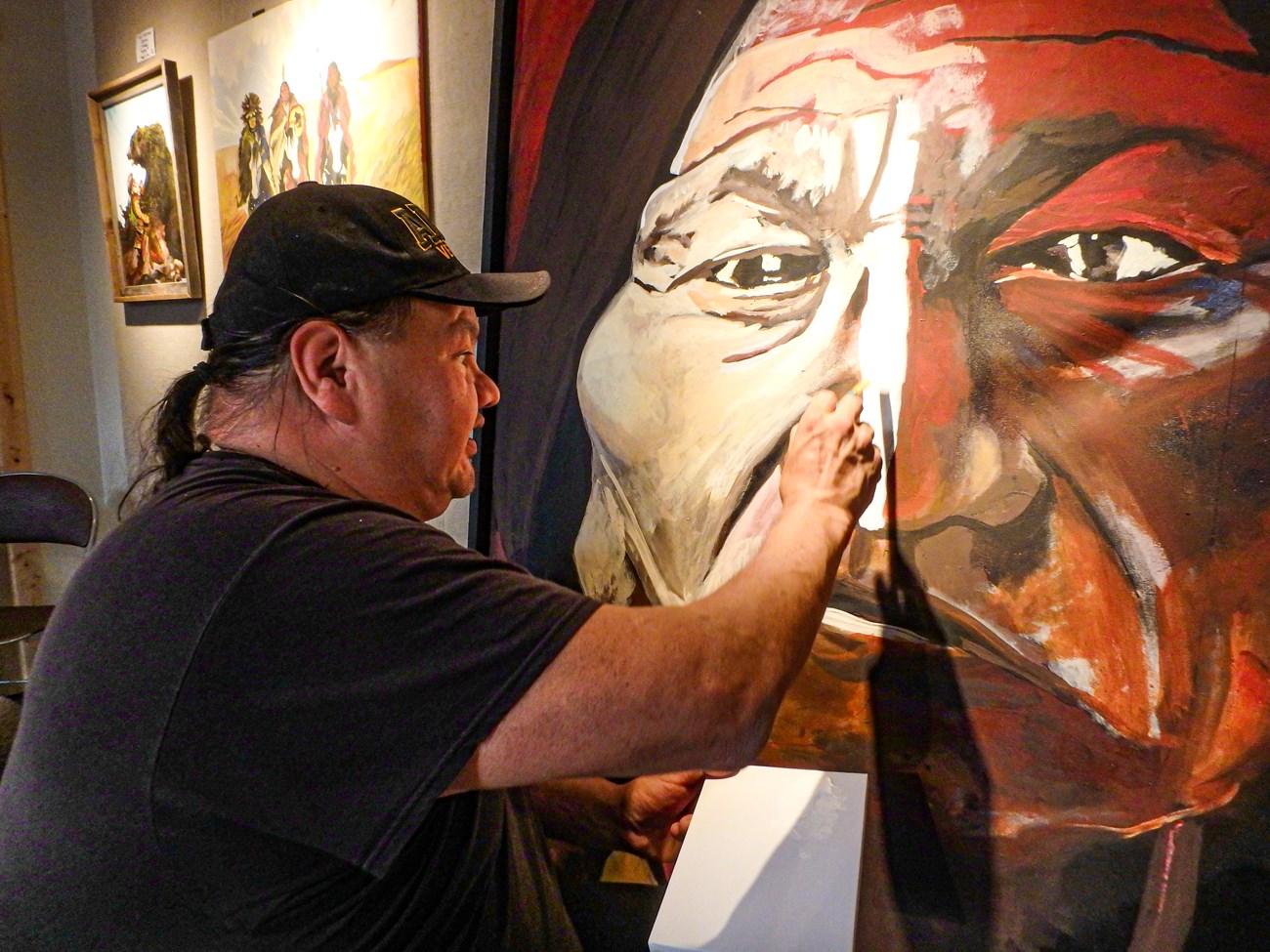 About the Program
Each summer, Grand Teton National Park hosts American Indian Artists at the Colter Bay Visitor Center to share their traditional and contemporary art with park visitors.

Participating artists demonstrate and share the cultural traditions of their tribes through art forms such as painting, weaving, pottery, beadwork, and musical instruments. Artists also offer their finished items for purchase.

Visitors are invited to learn more about American Indian cultures and view demonstrations daily, during summer operations. This annual summer program is available during open hours of the Colter Bay Visitor Center. Colter Bay Visitor Center is open 9 a.m. to 5 p.m. daily. Beginning June 8, hours of operation will extend 8 a.m. to 5 p.m. daily.
2023 American Indian Guest Artist Summer Schedule
At the Colter Bay Visitor Center
| | | | |
| --- | --- | --- | --- |
| Date | Artist | Tribe | Art Form |
| May 23 - 29 | Debbie & Willy LaMere | Shoshone | Arrowheads, Beadwork, & Quillwork |
| May 30 - June 5 | Dani Windchief Bahnsen | Assiniboine | Watercolor, Oil, & Acrylic Paintings |
| June 6 - 12 | Laine Thom | Shoshone / Goshute / Paiute | Shoshonean Beadwork |
| June 13 - 19 | Monte Yellow Bird, Sr. | Arikara / Hidatsa | Ledger Art |
| June 20 - 26 | Andrea Two Bulls | Oglala Sioux | Beadwork & Painting |
| June 27 - July 3 | Dallin Maybee | Northern Arapaho / Seneca | Beadwork, Painting, & Jewelry |
| July 4 - 10 | Kelly Looking Horse | Lakota Sioux | Drums, Dream Catchers, & Medicine Pouches |
| July 11 - 17 | Amanda Teton-Coby | Shoshone | Beadwork |
| July 18 - 24 | Debbie & James Rattling Leaf | Northern Arapaho | Beadwork & Painted Skulls |
| July 25 - July 31 | DG House | Cherokee | Painting, Prints, & Photographs |
| August 1 - 7 | Jola Fay LeBeau | Shoshone | Native Beadwork, Arts & Crafts |
| August 8 - 14 | Josie Broncho & Diane Trahant | Shoshone /Paiute | Beadwork |
| August 15 - 21 | Iris Sully | Sicangu Lakota | Carved Dolls & Beadwork |
| August 22 - 28 | Paul Hacker | Choctaw | Flutes, Knives, Ledger Art, & Pottery |
| August 29 - September 4 | Nancy Nacki & Clyde Hall | Shoshone | Beadwork & Silverwork |
| September 5 - 11 | Laine Thom | Shoshone / Goshute / Paiute | Shoshonean Beadwork |
| September 12 - 18 | DG House | Cherokee | Painting, Prints, & Photographs |
| September 19 - October 2 | Debbie & Willy LaMere | Shoshone | Arrowheads, Beadwork, & Quillwork |
Last updated: March 29, 2023