Mountains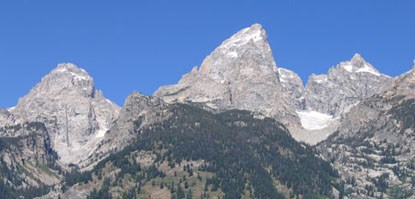 Grand Teton National Park inspires your sense of wonder. Magnificent mountains tower over a valley bisected by the Snake River. This beautiful valley, overlooked on the western edge by an impressive skyline, is known as Jackson Hole. The Teton Range dominates the landscape of the park.
The range began rising about 10 million years ago. Numerous earthquakes, up to a magnitude 7.5, released tension along the Teton fault building the mountains one step at a time. Each large earthquake breaks the ground by about ten feet dropping the valley floor three to four times as much as the mountains rise. The Grand Teton at 13,770 feet, towers about 7,000 feet above the valley floor suggesting the offset across the fault is up to 30,000 feet. The lack of foothills is due to the presence of the Teton fault.
Erosion fills the valley and carves the range crest forming the jagged Teton skyline. The rugged terrain and lack of foothills allures outdoor enthusiasts of all types to visit this area. Climbers summit at least 12 peaks in the Teton Range over 12,000 feet high with varying degrees of difficulty.
What's shaking in the Intermountain West (Montana, Idaho, Wyoming, Nevada, Utah, Colorado, Arizona and New Mexico)? Visit the "Recent Earthquakes in the Intermountain West" website to learn about recent earthquakes in the area. The site provides local magnitude, times of occurrence and proximity to local towns and cities.
To learn more about the geology of Grand Teton National Park, watch our video podcasts and a geology animation video.
Read our geology brochure for additional information.


Last updated: October 8, 2018