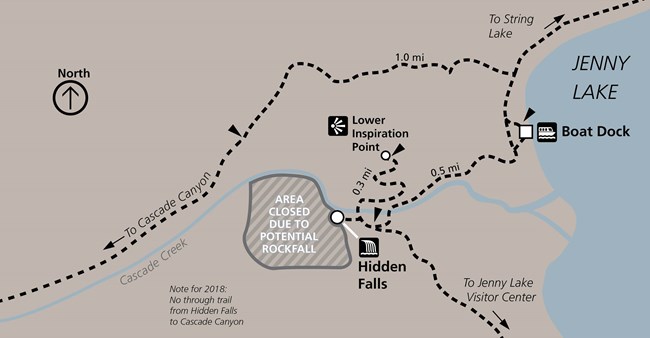 "Practice Rocks" Area
Closure updated August 10, 2018. Temporary closure remains in effect until rescinded. It is unknown how long the closure at the "Practice Rocks" climbing area will be in place.

Closure and Public Use Limit
The following area is temporarily closed to public entry: The climbing area known as the "Practice Rocks." The Hidden Falls Viewing Area and Lower Inspiration Point are open.

Authority
The Superintendent is closing the portion of the park to all public use. This closure is necessary for one or more of the following reasons:
Maintenance of public health and safety
Determination
The National Park Service has determined that the closure is necessary due to the elevated potential for rockfall. Large cracks in a rock buttress above the area were recently discovered. Going forward, park staff continue to monitor cracks in the rock buttress above the "Practice Rocks" to better understand the probability that the rock will come loose and fall. A decision regarding this closure will be based on monitoring and further assessment.


Public Notice
Signs are posted at conspicuous locations in the affected area. The signed compendium amendment is available for review in the office of the superintendent. This notice will be removed from this webpage when the closure is no longer necessary and has been rescinded.