Temporary Closures and Compendium Amendments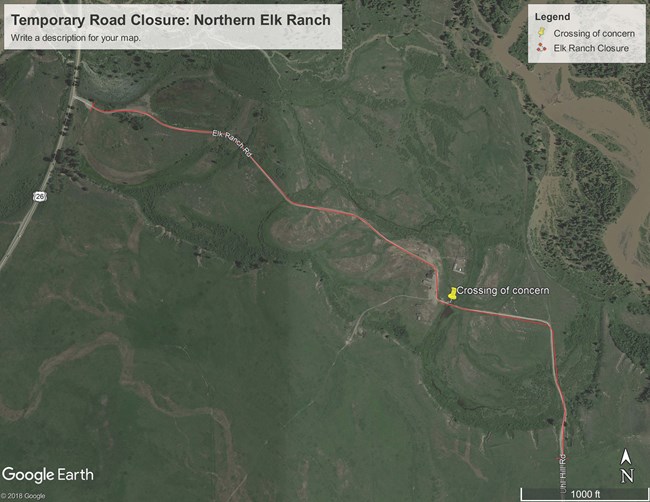 Temporary Road Closure - North Elk Ranch.
Closed to all vehicular traffic. The area to be closed: from the junction of Highway 89/191 and Elk Ranch Road (43.830075 N, -110.512804 W) to the first cattle guard/gate on Uhl Hill Rd south from Elk Ranch (43.822056 N, -110.498693 W). Note: The northern portion of Elk Ranch flats is still accessible to the public by vehicle through the Wolff Ranch Rd.

This closure is necessary to protect integrity of this creek crossing while protecting visitors from getting their vehicles stuck here. Beavers have built a dam immediately upstream of the creek crossing and altered the flow of this creek along the western portion of the crossing. This crossing is critical to efficient access to irrigation infrastructure by the irrigation crew. With increased vehicle traffic, this could hasten the degradation of the crossing that would impact irrigation operations and require road reconstruction and/or additional maintenance. The beaver dam is one of three dams in the upstream portion of this spring-fed reach. SRM staff will implement passive monitoring via a remote camera to determine whether beavers are actively tending the dam that is diverting this creek's flow; pending the results of that monitoring, level of beaver activity, and state of the crossing, SRM may recommend alternative approaches to protect this road if necessary

Updated May 10, 2019.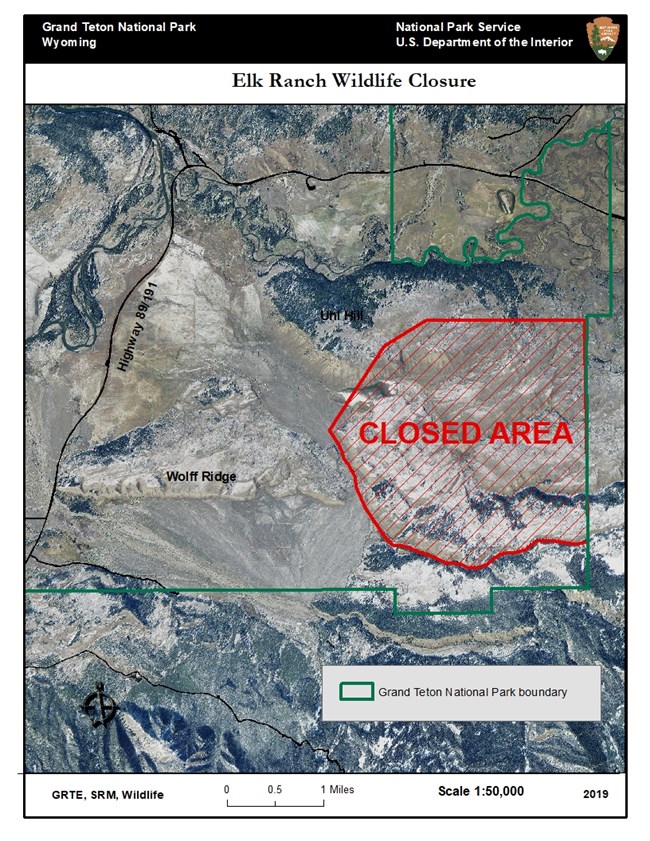 Elk Ranch Reservoir Area Closure
The following area is closed:

The northeast corner of the closure boundary starts at the park boundary at UTM 545928, 4851661. The closure runs south along the park's eastern boundary to Eynon Draw. The southern boundary of the closure follows Eynon Draw to the west along the north side of the creek until joining Cowboy Cabin Road, then follows the road to the northwest to 541644, 4849969 (NAD83). The boundary then heads northeast through the reservoir to the top of hill 7282', and then due east to the eastern boundary of the park.



Updated: May 7, 2019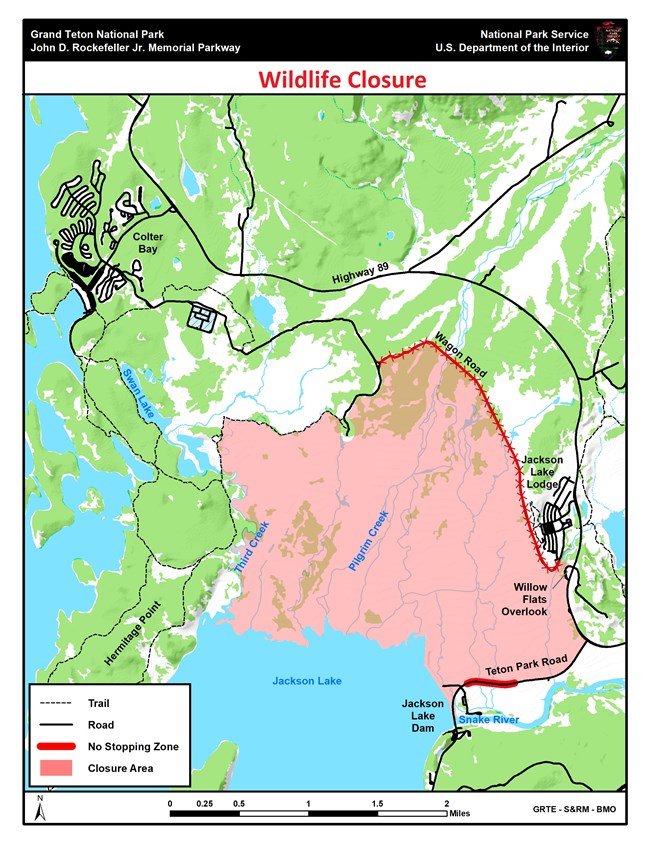 Willow Flats Area Closure
The following area is closed: Along road from Jackson Lake Dam to Jackson Lake Lodge and then in locations along the closure boundary (see map) where the potential exists for human access of the closed area, including closure signs and closure maps posted in the Colter Bay area.
The National Park Service has determined that this closure is necessary for human safety and the protection of natural processes.

This closure will remain in effect indefinitely.
Updated: May 20, 2019
Last updated: August 21, 2019