Moose-Wilson Corridor Comprehensive Management Plan
A Plan for the Future
In December 2016, a final decision was reached for the Moose-Wilson Corridor Comprehensive Management Plan. The decision was the culmination of a comprehensive three-year planning effort that began with identification of the corridor's fundamental resources and values, continued with development of a range of alternatives for future management, and included a comprehensive assessment of the environmental impacts associated with those alternatives.

The plan was informed throughout by public input and feedback. The National Park Service is very appreciative of all the input received from interested individuals and organizations. The engagement and interest received is a testament to the care and concern people have for this special area within the park. The final decision was documented in a Record of Decision signed by Intermountain Regional Director Sue Masica.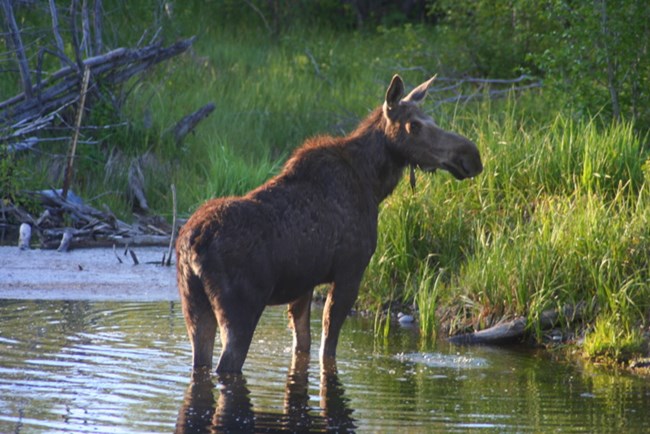 Implementation
We are now working to implement the Moose-Wilson Corridor Plan. Travelers through the corridor may notice construction-related activities, and paving of the unpaved portion of road is scheduled for 2020. All of this work will improve the visitor experience and safety, as well as protection of this special place.
Keep In Touch
Sign-up for our email list to receive periodic updates on the implementation of the Moose-Wilson Corridor plan delivered to your inbox.
Soundscape Portrait of the Moose-Wilson Corridor

This "soundscape portrait" is a compilation of recordings made by one sound monitoring station, located near the junction of Death Canyon Road and Moose-Wilson Road, through the course of a year. Sound quality will be enhanced by the use of good speakers or headphones as there are both quiet sounds and louder sounds, just as if you were really there. A guide to the sounds can be found above.

Credit / Author:

NPS/Burson

Date created:

2020-10-14 00:00:00.0
Visit our keyboard shortcuts docs for details
Duration:

3 minutes, 35 seconds
Management Assistant Gary Pollock and Chief of Interpretation Vickie Mates introduce the Moose-Wilson corridor and some of the management challenges it presents.
Visit our keyboard shortcuts docs for details
Duration:

4 minutes, 22 seconds
Senior Wildlife Biologist Steve Cain (now retired) illustrates some of the management challenges that come with wildlife and visitors in the Moose-Wilson corridor.
Visit our keyboard shortcuts docs for details
Duration:

2 minutes, 23 seconds
Park Ranger Clay Hanna describes the philosophy of Laurance S. Rockefeller and how it is embodied in the experience of visitors to the Moose-Wilson corridor and the LSR Preserve.
Visit our keyboard shortcuts docs for details
Duration:

3 minutes, 5 seconds
Every day, hundreds of visitors take a scenic drive down the Moose-Wilson Road. Many are looking to enjoy mountain scenery and look for wildlife. As they begin that journey down the road, there's a shift from the fast-paced hustle and bustle to a slower pace.
Last updated: August 28, 2019