Interpretive Internship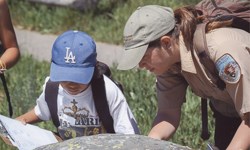 Interpretive interns deal directly with park visitors answering questions at visitor centers and providing trip planning help at an information desk, researching, preparing and presenting short guided walks and talks, presenting evening campfire talks, leading children's programs, providing information to individuals you may encounter on trails or at overlooks and completing a wide variety of special projects. Work in other park divisions such as administration, resource management, visitor protection, and maintenance may be available to round out the internship. Interns work 5 days per week, 8 hours per day and receive a compensation of $14.30/hr. Housing is provided with rent deducted from pay.
Applicants must be college students, who have completed their junior year, or graduates, with a solid academic background in a declared major field of study such as natural or physical sciences, history, education, communications, natural or cultural interpretation, or recreation and resource management. An interest or experience in natural or cultural interpretation or environmental education would be helpful, but is not required. Applicants should have a strong interest in resource preservation and management, an ability to communicate ideas effectively, and enthusiasm for sharing knowledge with others.
Applicants should submit a cover letter, detailed resume which lists education, work experience, hobbies and other interests, names and contact information of current or former supervisors and for at least three references. College students or graduates should also include a college transcript. The application deadline for summer internships is March 1. Summer positions begin in May and typically last at least 14 weeks, but may last through September. Applications must be submitted via email to
grte_intern@nps.gov
. For additional information or to email your application materials
e-mail us
.
Last updated: October 17, 2018