Fire Prevention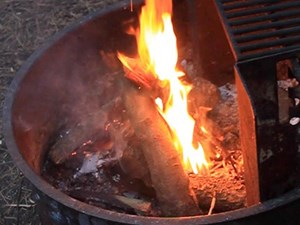 Fire is a natural way to restore ecosystems and provide resource benefits. Grand Teton National Park, however, suppresses all human-caused, unplanned fires. Human-caused fires, particularly those in areas of high visitor use, may have safety implications and cause a loss of property and cultural resources. An objective of the park's overall fire management program is reduce human-caused fires.
Visitors to Grand Teton National Park are asked to do their part to prevent unwanted fire incidents. Some important guidelines are listed below.


Building a Safe Campfire
Build campfires in designated areas only.
Avoid building the fire near overhanging branches, steep slopes, rotten stumps, logs, dry grass, and leaves.
Be sure the match you use to light the fire is out cold. Carefully feel the charred portion before discarding it.
Keep the campfire small. A good bed of coals or a small fire in a fire ring gives plenty of heat.
Never leave a campfire unattended even for a moment. Even a small breeze could quickly cause the fire to spread.
Never leave children alone with a campfire. Always have adult supervision.
Be careful with gas lanterns, barbeque grills, gas stoves, and anything that can be a source of ignition for a wildland fire.
Campfires may be banned during times of high fire danger. Watch for signs and obey the restrictions.
Putting Out a Campfire
Keep plenty of water handy and have a shovel for throwing dirt on the fire if it gets out of control.
Drown the fire with water. Make sure all embers, coals, and sticks are wet. Ensure there are no burning embers underneath any rocks surrounding the fire.
Stir the remains, then add more water and stir again. Be sure all burned material has been put out and cooled.
Carefully run the back of your hand near the surface of the fire remains to feel for any heat still being generated.
Smoking
Leave at least a 3-foot clearing around the area where you are smoking.
Grind out the cigarette, cigar, or pipe tobacco in the dirt before properly disposing of the remains in a trash can or ashtray. Never leave the remains on the ground.
Avoid smoking while hiking or riding a horse or bicycle.
Use the ashtray while in a vehicle.
Never empty the ashtray on the ground.
Suspected Arson
Please note any unusual or suspicious activity around fires. Write down the following information and immediately report it to the Teton Interagency Dispatch Center at (307) 739-3630:
Time and place
Description of person(s) involved
Vehicle license number, make, model, and color
Last updated: February 24, 2015