Fire Planning and Policies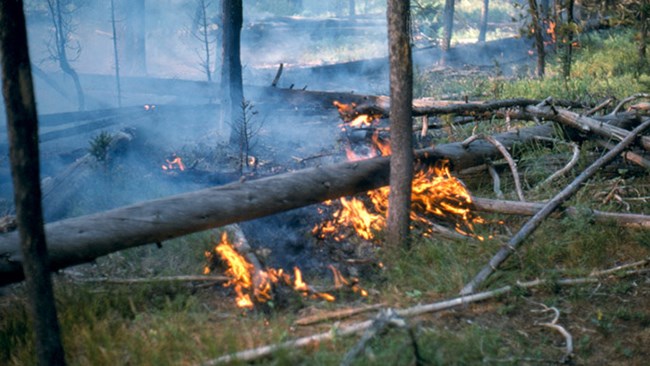 The National Park Service (NPS) mission is to protect and preserve the lands it manages for the enjoyment of future generations. Guided by this mandate, the fire management program focuses on restoring and maintaining natural processes associated with fire, while protecting human life and property. To help in achieving these long-term goals, the NPS has a comprehensive fire management program including hazardous fuels reduction, prescribed fire, wildland fire for resource benefit, and wildland fire suppression. The following policies guide the NPS in their fire management activities.
Grand Teton National Park Fire Management Plan
Grand Teton National Park is updating their Fire Management Plan and preparing an Environmental Assessment (EA) to evaluate potential impacts to the natural and cultural environment from proposed fire management activities in Grand Teton National Park and the John D. Rockefeller, Jr. Memorial Parkway in Wyoming. The plan will provide direction and establish specific procedures for all fire program activities to manage fire on an ecosystem level. The fire management program, carefully guided by resource management goals, will protect and perpetuate natural and cultural resources and their associated natural processes. The NPS held an open house on April 24, 2003 at the Jackson Hole Middle School to give the public an opportunity to learn more about the park's fire management program and proposed revisions to the Fire Management Plan. A second Open House was held on October 14, 2004 to provide information and answer questions about the EA conducted on three fire management plan alternatives. For more information, reference: Fire Management Plan EA, 3.46 mb, Adobe PDF
NPS Director's Order 18 - Wildland Fire Management (DO-18) 2008
Director's Order 18 incorporated the 1995 Federal Wildland Fire Management Policy and Review by 1) institutionalizing within the NPS new policies, organization and operational relationships, and changes in law, and reporting requirements reflected in the report; and 2) establishing a framework by which the NPS will implement the report's principles, policies and recommendations.
NPS Reference Manual 18 - Wildland Fire Management 2014
The major guiding document for fire management in the NPS, RM-18 is a technical discussion of wildland fire management requirements and procedures that provides detailed definitions and expanded guidance of all information presented in DO-18. Among other subjects, contents of RM-18 include guidance for safety, planning, qualifications, wildland fire and prescribed fire management, monitoring, and incident evaluation and review.
National Fire Plan
A cooperative, long-term effort of the USDA Forest Service, Department of Interior, and the National Association of State Foresters to manage the impact of wildland fire.
Last updated: September 11, 2018