Fire Jobs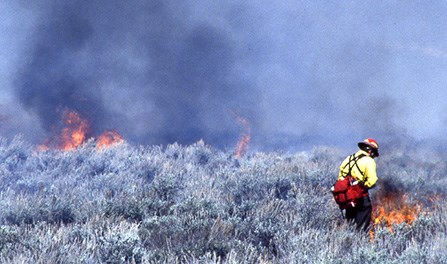 Visit NPS Fire & Aviation Management for information on National Park Service fire jobs. The site includes general employment information, job descriptions, job announcements, and application forms.
Visit tetonfires.com for Grand Teton National Park specific current job openings.

Visit the Employment web page for information on current openings and applying for a federal job.

More information on fire positions can be found on the NPS Fire & Aviation Management link (see above) or on the USAJOBS site .

Grand Teton National Park's fire and aviation program works closely with the Bridger-Teton National Forest, Jackson Hole Fire & EMS, Teton County Fire Department, and Wyoming Game and Fish Department to provide a diverse, efficient, and effective fire management operation including:
wildland fire use
prescribed fire
fuels management
fire suppression
This program provides excellent job opportunities to work within an interagency operation and interact with the local community.
Positions include:
Fire effects crew
Fuel reduction crew
Fire use monitors
Engine crew
GIS
Helitack
These jobs may include:
Working with fire engines, pumps, and hoses
Using chain saws, hand tools, and drip torches
Collecting vegetation and fuels data
Working in and around helicopters
Using specialized computer programs and instruments
Fighting fire on local or national fire efforts
Providing logistical fire support
Assisting in other park activities and projects
Maintaining and using other equipment and vehicles
For additional information, please contact the Fire Management Office at (307) 739-3311.
Last updated: February 24, 2015