Traveling Trunk
Winter Wildlife Traveling Trunk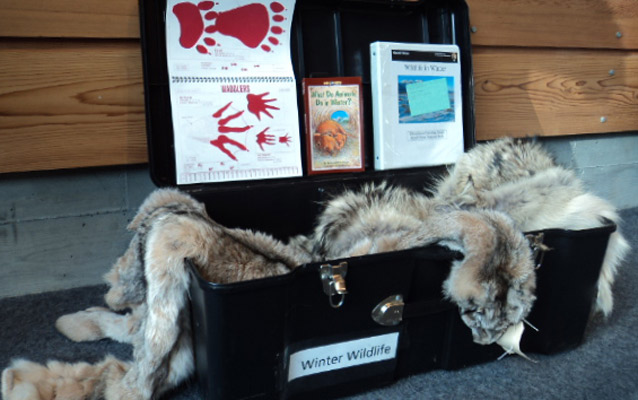 Bring the wonder of a Grand Teton winter into your classroom!
The three lesson plans included in the trunk can be used together or separately. Students will learn how the earth's tilt and rotation causes winter in Wyoming, local animal adaptations for surviving winter, and wildlife tracking skills. The trunk includes animal furs, tracks, books, and other exciting materials to help you teach these lessons.
Borrowing Instructions
Educators can borrow Grand Teton's traveling trunks to bring engaging, park-related props, materials, and multi-media into the classroom. Topics include National Parks, local history, wolves and climate change. There are curriculum-based lesson plans and activity suggestions to accompany each trunk. Trunks are free of charge and borrowers can pick them up in the park or local delivery may be available in some cases. Sorry, our trunks are too big to mail! For questions or reservations, please contact us via email (
e-mail us
) or call 307-739-3349.
Details
Subject:

Biology: Animals, Climate, Ecology, Space Science, Wildlife Biology

National/State Standards:

Next Generation Science Standards:
Interdependent Relationships in Ecosystems K-LS1-1
Inheritance and Variation of Traits 3-LS3-2
Space Systems: Patterns and Cycles 1-ESS1-2
Weather and Environment K-PS3-1

type:

Traveling Trunk
Last updated: May 4, 2018