Traveling Trunk
Grand Teton History Trunk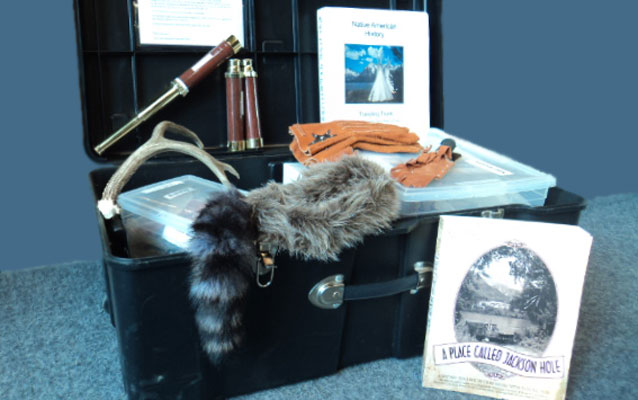 Throughout history, the people of Jackson Hole have fostered a connection to this landscape. Our history trunk allows students to explore some of the stories of these connections. In this trunk you will find lessons, resources, and activities for three separate human history topics: Native Americans, Trappers, and Explorers. Students will learn how humans have responded and adapted to the environment of the park. Students will also explore how the dynamic period of park establishment paralleled a similarly dynamic period of settlement as well as a period of growing local and national interest in conservation. These activities are designed with the 4th grade student in mind.
Borrowing Instructions
Educators can borrow Grand Teton's traveling trunks to bring engaging, park-related props, materials, and multi-media into the classroom. Topics include National Parks, local history, wolves and climate change. There are curriculum-based lesson plans and activity suggestions to accompany each trunk. Trunks are free of charge and borrowers can pick them up in the park or local delivery may be available in some cases. Sorry, our trunks are too big to mail! For questions or reservations, please contact us via
e-mail
or call 307-739-3499.
Details
Subject:

American Indian History and Culture, Civic Engagement, Community, Conservation, Government, History, Philanthropy/Humanitarianism, Pioneer America, Social Studies, Westward Expansion

National/State Standards:

Wyoming Standards
Social Studies Standards:
Production, Distribution, and Consumption K-4.1
Time, Continuity and Change K-4.4.3
People, Places, and Environments K-4.5.4 and K-4.3


type:

Traveling Trunk
Last updated: February 24, 2015