Traveling Trunk
Climate Change Traveling Trunk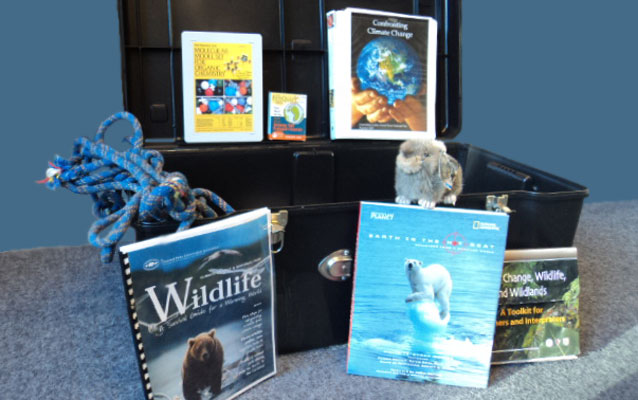 This trunk introduces students one of the most pressing environmental issues facing our youth today -- climate change. The lessons are designed to help students understand and explore the causes, effects, and implications of climate change and explore some possible solutions. Using reading, math, and science skills, students will learn about the global implications of climate change as well as how park resources could be affected. The lessons will help move students from the information stage, to critical thinking, and finally to action. This curriculum is designed for students in grades 6-12 but most activities could be easily adapted for younger audiences.
Borrowing Instructions
Educators can borrow Grand Teton's traveling trunks to bring engaging, park-related props, materials, and multi-media into the classroom. Topics include national parks, local history, wolves and climate change. There are curriculum-based lesson plans and activity suggestions to accompany each trunk. Trunks are free of charge and borrowers can pick them up in the park or local delivery may be available in some cases. Sorry, our trunks are too big to mail! For questions or reservations, please contact us via e-mail (e-mail us) or call 307-739-3349.
Details
Subject:

Civic Engagement, Climate, Climate Change, Community, Health, Meteorology, Reading, Writing

National/State Standards:

Next Generation Science Standards:
Matter and Energy in Organisms and Ecosystems MS-LS2-1
Interdependent Relationships in Ecosystems HS-LS2-7
Weather and Climate MS-ESS3-5, HS-ESS2-4
Human Impacts MS-ESS3-4, HS-ESS3-4


type:

Traveling Trunk
Last updated: February 24, 2015