Enjoy the North Carolina Side of the Park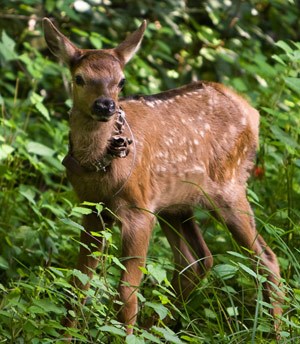 There are plenty of things to see and do on the south side of the Great Smoky Mountains National Park. Take a walk to a picturesque waterfall, wander through a historic log cabin, or watch an elk graze in a secluded mountain valley; whatever you do, you will find something spectacular in the North Carolina Smokies!
Stop by the
Oconaluftee Visitor Center
for information, park maps, and to pick up a free copy of the
Smokies Guide
newspaper. For additional books, DVDs, music and more, visit the
Great Smoky Mountains Association
bookstore located inside the visitor center.
Scenic Drives
• The 6-mile long Lakeview Drive offers fantastic views of Fontana Lake. Lakeview Drive begins outside of Bryson City, North Carolina.
• The
Blue Ridge Parkway
and
Cherohala Skyway
are both located outside the park, but offer spectacular views of the mountains. The parkway can be accessed from US-441 just south of the Oconaluftee Visitor Center. Access to the skyway is along US-129 near Robbinsville, NC. Both roads are subject to weather closures, especially in winter.
Historic Structures
In-expensive guidebooks that explain the history of the area and buildings are available for purchase at the visitor center.
• The
Mingus Mill and Mountain Farm Museum
, adjacent to the Oconaluftee Visitor Center
• The
Cataloochee Valley
offers a variety of historic building to visit

Wildlife Viewing
These are the best areas to see the reintroduced elk herd:
• Cataloochee Valley
• Oconaluftee Valley located near the visitor center

Waterfalls

Visit the Oconaluftee Visitor Center for more information, hiking maps and directions to trail heads.
• Deep Creek waterfall hike to
Indian Creek Falls
,
Juney Whank Falls
and Tom Branch Falls is 2.4-mile roundtrip
•
Mingo Falls
the tallest waterfall in the southern Appalachians is 0.4 mile round trip
• Chasteen Creek Falls is 4 miles roundtrip and begins in the Smokemont Campground
• Twentymile Cascade is 1.25 miles roundtrip and begins near the Twentymile Ranger Station.
Hiking
Visit the Oconaluftee Visitor Center for more information, hiking maps and directions to trail heads.
• The Oconaluftee River trail, that begins at the Oconaluftee Visitor Center is 3.2 miles round trip and is both pet and stroller accessible.
• The Mingus Creek Trail, located at the Mingus Mill (various distances) offers hikers many highlights such as slave cemetery, a Civilian Conservation Corp campsite and an old home site.
• The Smokemont Nature Trail (0.75 miles round trip) located at the Smokemont Campground gives hikers a view of natural reforestation and the Bradley Fork Creek.
Fontana Dam

Fontana Dam
is the largest dam east of the Mississippi River is located on the southwestern side of the park and offers:
• Fishing
• Boating
• Access to the Appalachian Trail
Bicycling
Two park trails that are
bicycle
accessible in North Carolina:
• Oconaluftee River Trail
• Lower Deep Creek Trail
• Other mountain biking trails are open on national forest and recreation lands outside the park's boundaries.
Camping

•
Smokemont campground
is open year round. Tents and RVs up to 35 feet can be accommodated. Group camping is also available. Call (877) 444-6777 or visit https://www.recreation.gov to reserve a site.
Picnicking
• Deep Creek picnic area is open year-round. A picnic pavilion is also available and can be reserved by calling (877) 444-6777 or at www.recreation.gov.
Fishing

• Fishing regulations are available at all visitor centers. A Tennessee or North Carolina fishing license is required to fish within park boundaries. A fishing license may be purchased in nearby communities or online from the states of Tennessee (link) or North Carolina (link).
Last updated: April 14, 2015