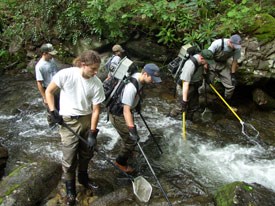 Welcome to Great Smoky Mountains National Park Resource Management & Science!
Ever wonder what it's like to work in a national park? Catch a bear? Track fish? Find out with "Dispatches From the Field," a regular source of information from scientists, resource managers, and park partners.
Click on issues below to see science, research, and resource management projects firsthand, and to find information about volunteering and educational opportunities.
Dispatches from the Field - in-depth profiles of Resource Management & Research
More Smokies science links: