Bear or Salamander Jeopardy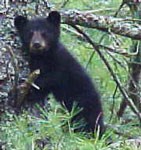 What has 4 legs, dark thick fur, and is famous with park visitors? A Black Bear! With over 2 bears per square mile, we have a bear to spare. Think you know all about bears, team up with your classmates for some friendly competition in bear jeopardy. Study up on life cycle, anatomy and fun facts to give your class an extra edge.
What is the most ravenous predator in the Smokies.................? I'll give you a hint, it likes wet and dark places. It's Salamanders! With 30 species, these ampihbians combined outweigh all of the Smokies Black bears and eat just as much. Test your knowledge on the Salamander capitol of the world!
Vocabulary
Hibernation
Habitutation
Extirpated
Amphibian
Bioindicator
Threats
Last updated: February 2, 2021