Lesson Plan
Mountain Life: Field Trip Post-Site Part 2 - Grade 2 (Tennessee)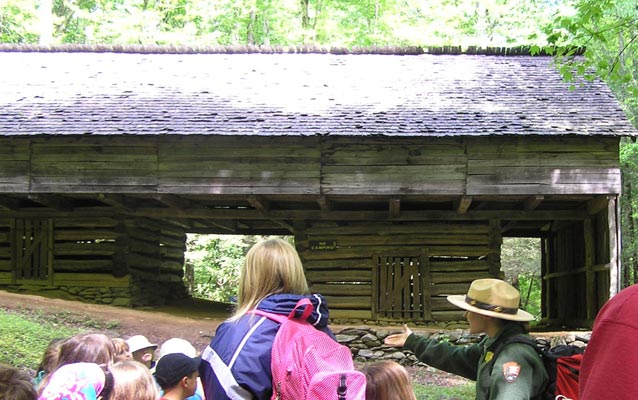 Grade Level:

First Grade-Third Grade

Subject:

Community, Family Life, History, Social Studies

Duration:

30 minutes

Group Size:

Up to 60

Setting:

classroom

National/State Standards:

Social Studies
Culture (1.01,1.02,3.02)
History (5.01,5.02,5.03,6.01)


Keywords:

national park service, park ranger, web ranger, Junior Ranger
Overview
The Great Smoky Mountains are world renowned for their diversity of plant and animal species. This great variety makes the park an exemplary outdoor laboratory for the study of relatively undisturbed native flora, fauna, physical environs, and processes of the Southern Appalachians.
This unit is broken into three parts. The overall unit involves a trip to the park and is accompanied by one preparation activity and two wrap-up activities.  This is part 2 of the wrap up activity of the unit.
Objective(s)
1) Teach students about the various aspects of the National Park Service. 
Background
Teachers coming on the accompanying field trip should download our complete field trip packet that includes all of the lessons: Mountain Life Pre-Site Lesson, information and directions about the field trip and Wrap-up part 1 and 2 post site lesson. Download the full
Mountain Life Field Trip packet
 includes Preparation and Wrap-up lessons). 
Materials
This lesson includes instructions on how to become a Web Ranger and a Pre and Post Site Test. 
Teach students about the various aspects of the National Park Service. Download

Pre site test to be used before the field trip and a post site test to use after the field trip. Download
Procedure
Have the students learn how to become a web ranger for the National Park Service, students go to: www.nps.gov/webrangers. 
Assessment
Administer a pre and post site test that is included in the unit.
Park Connections
Becoming a junior ranger is a wonderful way to get involved with the park and help protect all the amazing resources of the park.  
Vocabulary
National Park Service, Junior Ranger
Last updated: April 14, 2015