Lesson Plan
On Top of Old Smoky: Field Trip Preparation Part 1 - Grade 5 (North Carolina)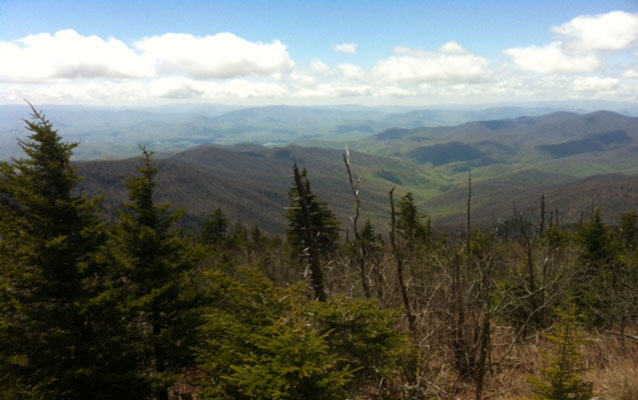 Grade Level:

Fourth Grade-Sixth Grade

Subject:

Climate, Earth Science, Geography, Meteorology

Duration:

30 minutes

Group Size:

Up to 60

Setting:

classroom

National/State Standards:

Science
5.P.1.1
5.P.2.1
5.P.2.3
EX.5.P.2.3
5.E.1.1
5.E. 1.2
5.E. 1.3
EX.5.L.1.2
5.L.2.1
5.L.2.2
EX.5.L.2.2
5.L2.3
EX.5.L.2.3


Keywords:

Great Smoky Mountains National Park, fifth grade, weather, climate
Overview
Clingmans Dome serves as the high elevation classroom where students examine the ecology of sky-island habitats. The mountain top is also a great venue for students to build their understanding of weather and landforms both through direct observation and through the use of maps, data, and activities.
Objective(s)
1) Calculate changes in temperature as elevation changes.
2) Understand why temperature changes with elevation.
3) Understand the health risks associated with extreme temperature changes.

Background
Great Smoky Mountains National Park is an excellent backdrop for students as they explore the natural world. The program is designed to introduce students to the interdependence between the climate and the biodiversity at Great Smoky Mountains National Park. Additionally, students will gain knowledge of how human activities can adversely affect the biodiversity within the park.
Teachers coming on the accompanying field trip should download our complete field trip packet that includes all of the lessons: On Top of Old Smoky pre-site lessons, information and directions about the field trip and On Top of Old Smoky Wrap-up post site lessons.
Download the full On Top of Old Smoky Field Trip packet (includes Preparation and Wrap-up lessons).

Materials
This lesson includes a temperature and elevation worksheet that compares two elevations in the park and a Pre and Post Site Test.
Graphs show the temperature differences between two locations in the park, helping to introduce the concept of altitude and associated temperature change. Download

Pre site test to be used before the field trip and a post site test to use after the field trip. Download
Procedure
Step 1: Describe the range of elevation in Great Smoky Mountains National Park to students.

Step 2: Have students review the temperature graphs and answer associated questions.

Step 3: Describe the elevation at Clingmans Dome and introduce the concept of altitude.

Assessment
Administer a pre and post site test that in included in the unit.
Vocabulary
Altitude, elevation, temperature, topography
Last updated: April 14, 2015