News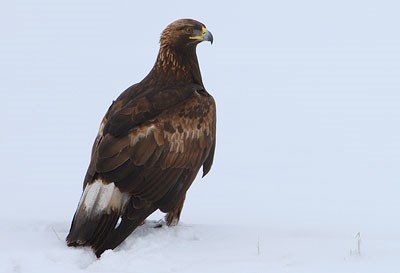 For Immediate Release – 12/10/2019
Annual Christmas Bird Count at Great Sand Dunes on December 21st
Birders and nature enthusiasts in the San Luis Valley will join birders across the western hemisphere to participate in Audubon's longest-running wintertime tradition, the annual Christmas Bird Count (CBC), held at Great Sand Dunes National Park on Saturday, December 21st. Birders of all skill levels are welcome to participate. The park is also looking for those within the count circle who have bird feeders to join in the fun, as well.

To participate, meet at the Great Sand Dunes visitor center Conference Room (about ½ mile past the entrance station) by 8:00 am to complete volunteer paperwork and enjoy a hot drink and snack prior to departure. Hot drinks and snacks will be provided by the Friends of the Dunes beginning at 8:00 am. Bring binoculars, cameras, warm clothing, food, water, and bird books, if possible. Snowshoes may come in handy, as well.

Participation in the CBC is free, and the park will waive the entrance fee for CBC participants who sign up as park volunteers on the day of the count. Participants should contact Dewane Mosher at 719-378-6363 or e-mail us to receive a map of the count circle and a winter bird checklist.

The longest running citizen science survey in the world, Audubon's annual Christmas Bird Count takes place nationwide in late December each year. Tens of thousands of volunteers throughout North America brave winter weather to add a new layer to over a century of data.

The Christmas Bird Count began over a century ago when 27 conservationists in 25 localities changed the course of ornithological history. On Christmas Day in 1900, the small group posed an alternative to the "side hunt," a Christmas day activity in which teams competed to see who could shoot the most birds and small mammals. Instead, it was proposed that they identify, count, and record all the birds they saw, founding what is now considered to be the world's most significant citizen-based conservation effort – and a more than century-old institution. The CBC is vital in monitoring the status of resident and migratory birds across the Western Hemisphere, and the data, which are 100% volunteer generated, have become a crucial part of the U.S. Government's natural history monitoring database.

Please go to the Audubon website for additional information, news, and history on the Christmas Bird Count: https://audubon.org/conservation/science/christmas-bird-count.
For Immediate Release
November 6, 2019
Contact: Kathy Faz at 719-378-6341
Great Sand Dunes Waives Entrance Fees on Monday, November 11, in Honor of Veterans Day
Great Sand Dunes will waive entrance fees on Monday, November 11, in honor of Veterans Day. This national holiday honors ALL who have served in the U.S. Military. This includes those heroic men and women who have made the ultimate sacrifice in defense of this great nation during military service. The Western National Parks Association, the non-profit organization that manages the park store, will also offer a 15% discount on all items in the store on this fee-free day.

Great Sand Dunes visitor center is open from 9:00 a.m. to 4:30 p.m., and the park remains open 24 hours per day. The Pinon Flats Campground is closed from November 1, 2019 to April 1, 2020. The Medano Pass Primitive Road is open to 4WD vehicles this time of year. For current road conditions and park alerts, visit the park's website at www.nps.gov/grsa or call the visitor center at 719-378-6395.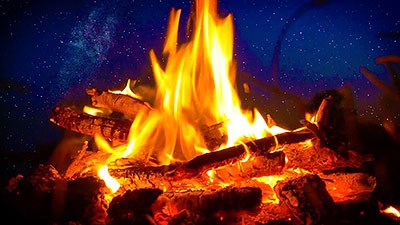 Fire Restrictions Ended after Recent Snowstorms
Snowstorms and colder temperatures over the region have ended the need for fire restrictions at Great Sand Dunes and nearby public lands. Restrictions ended Saturday October 26, at noon. Fires are again permitted in metal fire rings, located in Piñon Flats Campground and designated sites along the Medano Pass Primitive Road. Only gas stoves are permitted in areas outside of metal fire rings.
For Immediate Release
October 3, 2019
Great Sand Dunes Implements Emergency Fire Restrictions
The entire area within Great Sand Dunes National Park and Preserve is under extreme fire danger due to below-normal moisture conditions combined with unseasonably warm temperatures and windy conditions. The resulting low fuel moisture situation has created severe wildfire conditions and any fire ignitions may result in extreme fire behavior. Additionally, long term forecasts do not anticipate significant improvement in current conditions and the availability of firefighting resources is limited. Such conditions create a severe hazard to human health and safety and the potential for serious damage to park resources should a wildfire be ignited.
Therefore, to reduce the risk of fire and protect park resources the following restrictions are established under the authority of Title 36, Code of Federal Regulations, § 1.5 (a)(1) Closures and Public Use Limits, §2.13(c) Fires, and § 2.21(a) Smoking:
The following acts are prohibited on the public land, roads, and trails within the National Park and Preserve regardless of land ownership, including private property and inholdings, until further notice:
1. Building, maintaining, attending, or using an open flame including fire, campfire, stove fire, charcoal grills and barbeques, coal and wood burning stoves and devices (stoves, grills or lanterns) using liquid fuel such as white gas or kerosene.
2. Smoking.
Exemptions:
1. Any Federal, State or Local officer or member of an organized rescue or firefighting force in the performance of an official duty.
2. Persons using devices such as stoves, grills or lanterns with pressurized gas canisters for isobutene or propane that include shut-off valves.
3. Persons within an enclosed vehicle, trailer or building.
These restrictions go into effect at 12:00 pm on October 4th, 2019 and remain until rescinded. Please call the Visitor Center at 719-378-6395 if you have any questions.
-NPS-
Great Sand Dunes National Park Postpones Planned Liberty Prescribed Burn
Great Sand Dunes National Park and Preserve has postponed the Liberty prescribed burning operation that was planned on up to 3,300 acres near the park's northern boundary.
"For any prescribed fire, we want to make sure the conditions are favorable and that we minimize impacts on the surrounding communities," said Mike Lewelling, Great Sand Dunes Fire Management Officer. "Right now the wind and weather conditions are not ideal for the planned prescribed burn. Additionally, the Decker Fire located nine miles south of Salida, Colorado, in the Sangre de Cristo Wilderness is already impacting the surrounding communities and we don't want to add to the cumulative impact."
The park will not reschedule the Liberty prescribed burn this fall to avoid impacting upcoming hunting seasons. If conditions allow, the park plans to conduct the Liberty prescribed burn in the spring.
"We appreciate all the work that our partners at Rio Grande National Forest put into helping us plan this operation and also their patience as we postpone it to a future date," said Pam Rice, Great Sand Dunes National Park Superintendent.
"Prescribed burning is an important part of fire management on public land. We look forward to working with our partners in the future to conduct projects like this that will ultimately help reduce the risk of high intensity high severity fires and make it safer for local communities," added Rice.
To learn more about the role of prescribed fire on National Park Service lands visit
https://www.nps.gov/articles/what-is-hazard-fuel-reduction.htm
.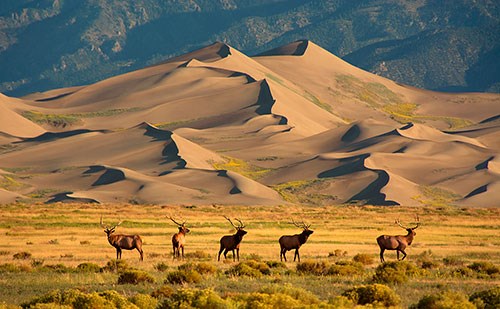 For Immediate Release: September 16, 2019
Contact: Fred Bunch, Fred_Bunch@nps.gov, 719-378-6361
Great Sand Dunes National Park and Preserve Finalizes Plan for Managing Elk and Bison
MOSCA, CO – On September 16, 2019, the National Park Service (NPS) released its Record of Decision for the Great Sand Dunes National Park and Preserve Ungulate Management Plan Environmental Impact Statement (UMP EIS). This is a public comprehensive plan to manage elk and bison in the park.

The plan's selected action (as outlined in the Record of Decision) provides the NPS with tools to alter elk distribution in the park while continuing to allow public elk hunting in the preserve. Additionally, the NPS plans on partnering with The Nature Conservancy as it assumes responsibilities of managing bison density and distribution in the park. Over the long term, the NPS will adaptively manage elk and bison to meet desired conditions for wetland ecological integrity.

"We look forward to working with the public and our partners to implement this plan," said Great Sand Dunes Superintendent Pamela Rice. "By working together with Colorado Parks and Wildlife, US Fish and Wildlife Service, The Nature Conservancy and tribes, we can help each other meet our mutual goals for elk and bison management and conservation."

Elk and bison have long been present in the park. The elk herd in the eastern San Luis Valley has grown to more than 5,000, and The Nature Conservancy manages approximately 1,700 bison on the Medano Ranch. Historic levels of elk are leading to adverse impacts on sensitive areas of the park, including the wetland vegetation communities where the existing bison herd spends a disproportionate amount of time. This plan will support the long-term protection of resources and is compatible with activities across the broader eastern San Luis Valley landscape, to the extent practicable.

The UMP EIS, Record of Decision and other reference documents can be found on the NPS Planning Environment and Public Comment (PEPC) website at https://parkplanning.nps.gov/grsa_ungulates.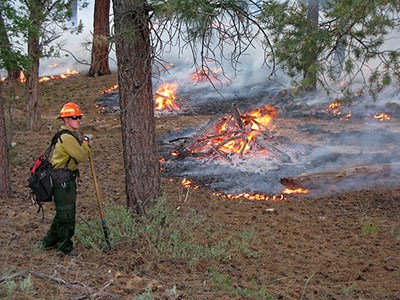 September 12, 2019
For Immediate Release
Dale Culver (719) 378-6321
Prescribed Burning Planned At Great Sand Dunes National Park

As part of Great Sand Dunes National Park's hazardous fuels reduction efforts, fire managers from the park in partnership with Rio Grande National Forest are preparing to conduct a prescribed burn on up to 3,300 acres near the park's northern boundary. The project area is located south of Baca Grande, Colorado, and approximately three miles south of Crestone, Colorado.

The fire operation will remain west of Liberty Road. Liberty Road and access to the Liberty Trailhead will be closed during the operation to ensure public health and safety. Burning will begin as early as October 1, if favorable weather and fuel conditions permit.

"Prescribed fire is a proactive tool used to achieve a number of purposes," said Mike Lewelling, Great Sand Dunes Fire Management Officer. "The primary purpose of this prescribed burn is the reduction of hazardous fuels (overgrown vegetation). It helps decrease the threat of high-intensity, high-severity wildfires and reduce the risk of wildfire danger to nearby communities.

Prior to and during prescribed burns, fire managers closely monitor weather conditions with multiple weather forecasts generated by the National Weather Service. Forecasts are customized to the burn location with frequent on-site weather measurements. Fire personnel at the scene are constantly monitoring conditions during a prescribed burn and adapt accordingly. If at any time conditions are outside of predetermined acceptable levels, the operation will be halted. All burns are monitored until they are declared completely out.

Smoke will be visible from the Crestone and Baca Grande subdivisions, Colorado State Highway 17, and other locations in the San Luis Valley. Air quality considerations are an important part of prescribed fire, and each fire prescription is planned to disperse smoke rapidly and reduce lingering haze. However, smoke may still have adverse effects on some people's health. For more information on how to mitigate health risks, visit https://www.colorado.gov/pacific/cdphe/wood-smoke-and-health.

"It is impossible to burn without generating smoke," noted Lewelling. "The targeted prescribed burn area will be subdivided into smaller sections and potentially burned over several days to limit daily smoke production."

Neighbors and towns adjacent to the park should be aware that the prescribed burning may temporarily generate large plumes of smoke and that some burn units have the potential to smolder for several days. Signs will be posted along nearest major roads during the operation. Fire information updates including anticipated daily smoke impacts will be posted on https://inciweb.nwcg.gov. Any neighbors or individuals that may require special consideration or assistance in the event that unplanned smoke issues arise are encouraged to call Dale Culver, Chief Ranger at (719) 378-6321.

Great Sand Dunes and the Rio Grande National Forest will hold a public meeting on Tuesday, September 24, at 6:00 p.m. at the Baca Grande Property Owners Association administration building, 68575 County Road T, Crestone, CO. Knowledgeable staff will provide maps and general information on the operation and will answer questions and address concerns from the community.