Be A Junior Ranger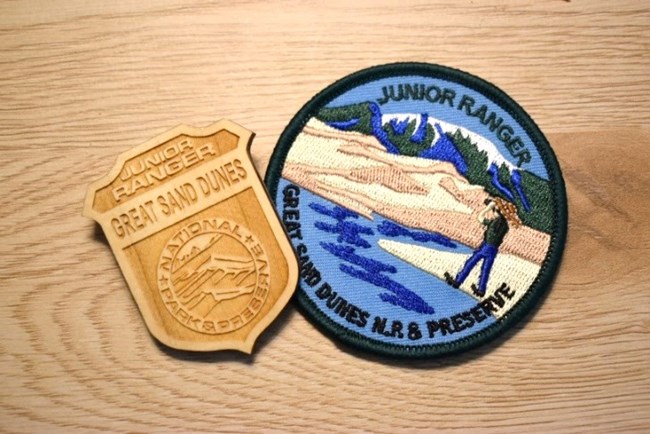 The Junior Ranger Program is a great way for kids to learn about park resources! Most National Park Service areas have Junior Ranger programs; kids can collect badges or patches from over 400 NPS units.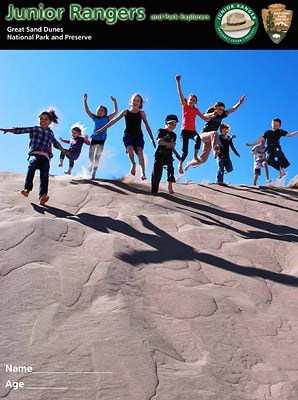 Onsite Visit
At Great Sand Dunes, plan on a total visit of at least 2 hours to complete required sections of the Junior Ranger Booklet, available at the visitor center. (Most families plan about two days to visit this large, diverse park). There are three different age groups in the booklet: 3-6, 7-9, 10-12, and 13 and up. All sections for your age group must be completed to earn a badge or patch.

You can download the Great Sand Dunes Junior Ranger booklet (pdf, 4 mb) to begin work on it before your visit. Find answers for the Habitat Match activity on our Natural Features and Ecoystems page and Animals pages.

The Junior Ranger booklet is designed to complete while visiting Great Sand Dunes. You can complete the booklet at home and mail or email it to the park, but only patches are available by mail due to the high cost of mailing badges. You can email your completed booklet to:
grsa_interpretation@nps.gov
or mail it to:
Visitor Center
Great Sand Dunes National Park and Preserve
11999 State Highway 150
Mosca, CO 81146

For more information about the Junior Ranger program, please call the Visitor Center at 719-378-6395.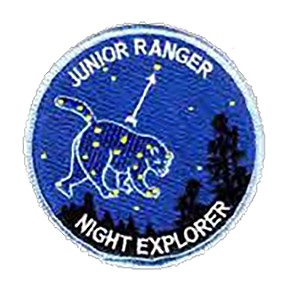 Are you spending the night in or near the park? You can also complete a Night Sky Explorer booklet to earn a patch! Pick up your Night Sky Explorer booklet at the visitor center or download the booklet to begin work before your visit.
Last updated: April 24, 2023