How P.E.O. Saved the Great Sand Dunes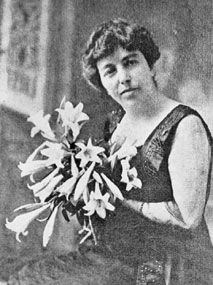 My name is Carol Bohley. My husband, Bob, and I have volunteered at Great Sand Dunes National Park and Preserve in the summers of 2012 to 2020 and have fallen in love with this southern Colorado park. The Great Sand Dunes are home to the tallest dunes in North America, as well as some of the oldest archeological sites on the continent. So, why is this relevant to the Philanthropic Educational Organization* (P.E.O.)?

Starting in 1925, the Alamosa Colorado Chamber of Commerce, led by history and mathematics professor Dr. Frank Spencer, began a campaign to boost interest in the Great Sand Dunes. They posted signs directing tourists to the dunes, used hyperbole in local newspaper articles, and sent a letter to the U.S. Forest Service all in an attempt to protect the Great Sand Dunes and the surrounding areas. For five years Dr. Spencer and other local men of the San Luis Valley had no success in protecting the dunes, until his wife Elizabeth Spencer stepped in.

Elizabeth Spencer was an active member of Chapter V of P.E.O. in Monte Vista, Colorado. During a meeting in 1930, Elizabeth extolled the archeological value of the Great Sand Dunes, and expressed her concerns about people removing sand for construction materials, miners chemically removing gold from the sand, and that the water required to keep the dunes stable was being diverted for other purposes. By the end of the P.E.O. meeting, the Sand Dunes Committee was founded, and Elizabeth Spencer became the chair with Martha Jean Corlett and Myrtle Woods as members, along with Anna Mae Darnley, the Chapter President.

Knowing that the task before them was formidable, the women turned to other P.E.O. Chapters in Colorado's San Luis Valley- such as Chapter BH in Del Norte, Chapter AE in Alamosa, and even getting the Colorado State Chapter involved as well. These women then worked together to initiate an ambitious letter writing campaign to recruit local, state, and national politicians to join their cause. The eventual goal was to present their case directly to policy makers in Washington DC.

Soon, P.E.O. enlisted the aid of Martha Jean Corlett's husband, George, who was not only a prominent lawyer in Monte Vista, CO, but also the lieutenant Governor of Colorado. On behalf of P.E.O., George Corlett drafted a petition in support of National Monument status of the Great Sand Dunes. The petition was taken to the Colorado General Assembly where it was endorsed. Then, a bill was hand-carried to Washington.


The P.E.O. committee sent letters and petitions to their congressmen, to other federal government employees, and to the U.S. Senator of Colorado, Edward P. Costigan, that letter kindly reminding Costigan that his mother was a past P.E.O. State President. Colorado Congressman, Guy U. Hardy, coordinated efforts for the Monument's establishment. In February, 1931, the Superintendent of Yellowstone inspected the dunes and recommended the dunes for inclusion in the National Park system.

Finally, after tours of the Great Sand Dunes by officials, letters to Washington DC and back, committee meetings of P.E.O. members and government entities, came the letter dated March 14th, 1932, giving advance notice of good news: "On March 17th, 1932, Great Sand Dunes National Monument will be born into law through Proclamation No. 1994 of March 17, 1932 (47 Stat. 2506): and signed by United States President Herbert Hoover. The women of the local P.E.O. had succeeded! Great Sand Dunes became the 36th National Monument in the National Park system. It was one of five approved out of 90 proposals for Monument status in 1932.

In 1940, P.E.O. went back into action to obtain funds for improvements to the Great Sand Dunes National Monument, again succeeding to protect the wonder of the Great Sand Dunes. In 1976, less than 50 years later, "Great Sand Dunes had gone from being the subject of a grassroots presentation project initiated by local P.E.O. sisterhoods to one of the most popular attractions in Colorado." The National Monument [through the help of many other individuals and different organizations] was elevated to National Park and Preserve status on November 22, 2000, through an Act of Congress (Public Law 106–530) cited as the ''Great Sand Dunes National Park and Preserve Act of 2000'. The establishment of today's Great Sand Dunes National Park and Preserve was solidified on September 23, 2004.

In the summer of 2019, while volunteering in the park's visitor center, I made a point of telling the story of P.E.O. involvement in the founding of the park. Many mothers thanked me for empowering their children with the information. One seasonal ranger overheard me and made a point at a ranger program of asking me to tell the story- I had never mentioned that I was a P.E.O. member personally until that summer- whereupon two females rangers shouted, " I want to be one!"

As a result of my disclosure of my P.E.O. membership, I was invited into the archives of the park where I was allowed to read and photo copy ephemera that I have used in this article, and have quoted wonderful resource: "Sea of Sand" by Michael Gaery.

In our capacity as Volunteers-In-Park (VIPs), my husband and I saw protected Native American relics, sites from settlers' cabins remaining from the gold rush, remains of squatters' towns, and even have had close encounters with herds of bison and elk. Watching the shadows play across the dunes of sand fills me with peace and serenity. I can slide down the mighty Sand Dunes, hike in awe in the majestic Sangre De Cristo Mountains, and climb through the Aspen forests to the alpine meadows... I will forever be grateful to my P.E.O. sisters who (almost one hundred years ago) came together to save this wonderous place for all to enjoy for many years to come.

Carol Bohley
Volunteer-In-Park (VIP)


*The P.E.O. women's organization was founded January 21, 1869 at Iowa Wesleyan College, Mt. Pleasant, Iowa and is a philanthropic and educational organization interested in assisting women with opportunities for higher education.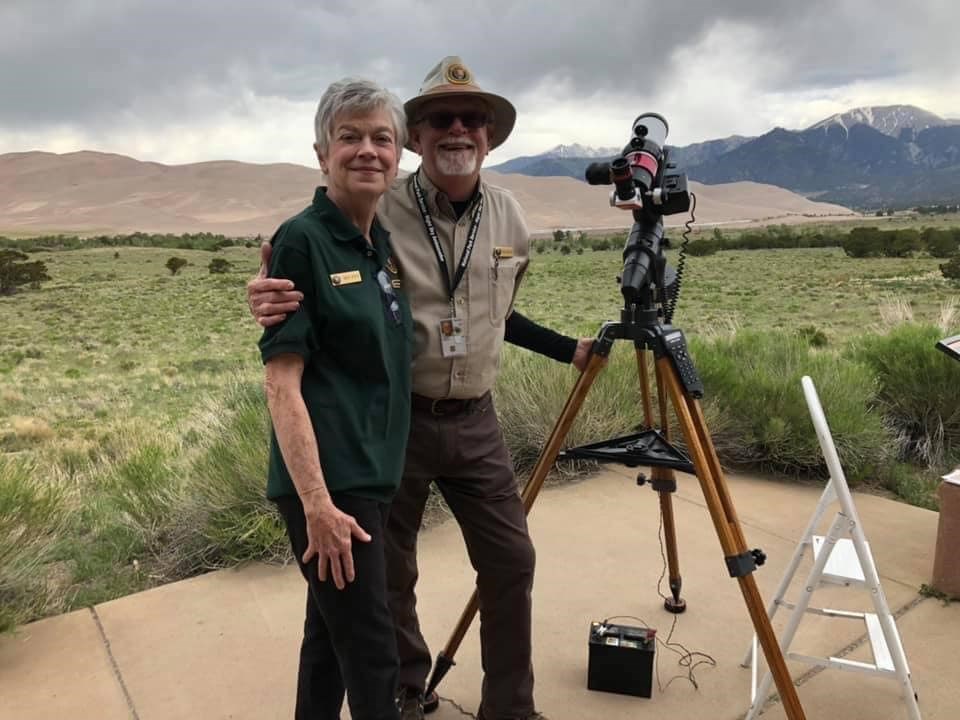 .
Last updated: February 20, 2021