Rendezvous Days and Pow-wow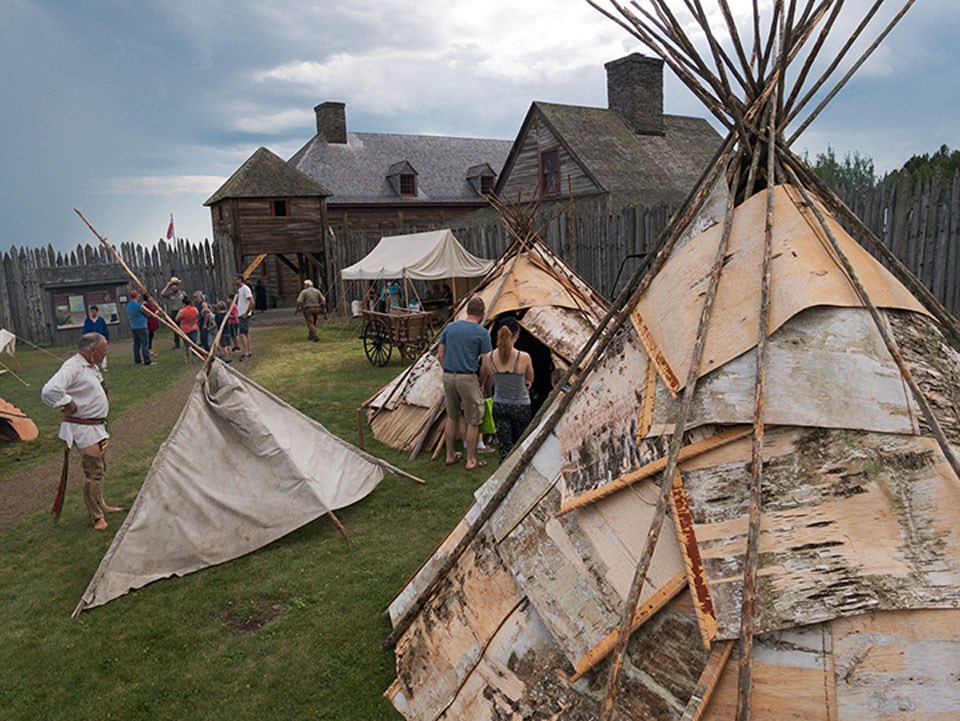 About the Grand Rendezvous
The hustle and bustle of summer activity peaked with the North West Company Rendezvous held here at Grand Portage. This was the time when furs from wintering posts, which reached into Canada, were delivered down the historic Grand Portage.

The annual Rendezvous is still celebrated every year during the second weekend of August.

The event is held in conjunction with the Rendezvous Days Pow-wow, sponsored by the Grand Portage Band of Lake Superior Chippewa (Ojibwe).

The annual gathering is our biggest and most grand celebration of the year, a time when Grand Portage comes alive and reflects on its rich heritage.

Re-enactors from across the country and Canada gather to camp and challenge each other to games and skills from our historic past.
This is one event you do not want to miss. Music, dancing, craft demonstrations and hands-on workshops ensure an exciting weekend at Grand Portage National Monument!

Reminiscences of past Rendezvous Days and Pow-wows
Participant Information for Rendezvous Days and Pow-wow
General Information
Rendezvous Days and Pow-wow event Dates: Friday-Sunday August 9-11, 2019.
The 2019 registration form (.PDF) will be available mid-April 2019 as a text link entitled - 2019 Rendezvous Days Registration Form - at the bottom of this page.
The Rendezvous Program is typically finalized in July of the year. Once prepared, we will replace the 2018 program with the 2019 program.
Please Note:
Registration Changes
This year's Rendezvous Participant Registration will be slightly different than past years, but the process should be familiar to you.
This year we are asking you to please type out the form on your computer and use the appropriate drop-down menu boxes for arrival date, number of tents, and number of campers. The amount due will auto-populate based on your entries.
When you have filled in all of the fields, please print the form, sign it, and submit by mail with your payment to complete your portion of the registration.
Instead of sending a post card like we've done in the past, park staff will send you an e-mail confirming your registration and you will be assigned a camp number. You're certainly welcome to print the e-mail you receive and use it as your confirmation, but it isn't necessary, as once we acknowledge by way of e-mail that we've received your registration, you're all set.
We'll get you checked-in during the event like we've always done by last name and/or camp number when you arrive.
We look forward to seeing you in August!
Please feel free to contact the park at (218) 475-0123 with any questions you may have regarding Rendezvous Registration. Thanks!
Links:
2018 Rendezvous Days Registration Form (Available about mid-April 2019)
2018 Rendezvous Days Participants' Guide 659 KB PF
2018 Rendezvous Pre-Event Information 90 KB PF
2018 Rendezvous Days Resources Protection Alert 295 KB PDF
2018 Rendezvous Days Schedule of Events 155 KB PDF
2018 Rendezvous Days Schedule of Events Program 430 KB PDF
2018 Poster Stone Bridge Dedication Ceremony 2,040 KB PDF
2018 Poster Historic Fur Trade Rendezvous 2,194 KB PDF
Last updated: November 21, 2018