Camping Information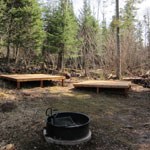 Backcountry Campsites
Careful planning is essential for a successful and enjoyable trip on the Grand Portage Trail.

The monument offers two remote backcountry campsites available for hikers and canoeists at Fort Charlotte on the Pigeon River side of the Grand Portage Trail.

Backcountry camping is not allowed on any other portion of the Grand Portage Trail.

Free

camping permits

are required at Grand Portage National Monument. The permit system allows campers to reserve a campsite in advance.

Campsites are limited to nine people per site.

Wooden platforms in each campsite accommodate tents.
Backcountry Camping Best Practices
Fires
Campfires must be built in fire rings or in grills where provided. Burn only dead, fallen wood. Cutting of standing (living or dead) trees is prohibited. Open fires will be prohibited during times of high fire danger.
Any remnants of a fire must be extinguished, cold to the touch, free of litter with no evidence of food remains that could attract animals. The use of portable camp stoves is permitted in designated campsites.
Quiet Hours
In order to insure a quality camping experience, quiet hours are enforced from 10 p.m. to 6 a.m.
Tent Platforms
To help reduce soil erosion, both sites are provided with tent platforms.
Garbage and Waste
All visitors must be prepared to carry their refuse out of the park. Do not dispose of garbage in toilets, do not bury it, and do not throw it in the river.
Where vault toilets are not provided, take care to dispose of human waste properly. Dig a hole six to eight inches deep and 200 feet from the nearest body of water. Cover thoroughly.

Pets
Pets are best left at home. Pet excrement must be removed if it is within 200 feet of trail, campsite or water.
Camping Safety
The Grand Portage is often wet and muddy during late spring, summer, and early fall.

Terrain is uneven and there are exposed rock surfaces and tree roots.

Board walks have been constructed over some of the wettest places, but large areas of standing water frequently remain throughout the year.

Freezing night temperatures can make Board walks very slippery with frost. Sturdy, waterproof footwear is recommended.

Please stay on the portage trail. Old logging roads and animal trails crisscross the Grand Portage and may lead you astray.
Archaeology
Do not disturb archaeological remains.
Current Hydrograph
The USGS provides a duration hydrograph that is very useful for forecasting paddling conditions on the Pigeon River from South Fowl Lake to Ft. Charlotte. After examining the

current hydrogaph

(be sure to select the right year) you should note that very difficult paddling conditions can be expected at 100 cfs (cubic feet per second) and below. At this low water stage, you can expect exposed rocks in the river channel- especially where the English portage used to be located. The English portage is likely little used today as there is typically more than sufficient water to float through this section of river. Very good paddling conditions can be expected at 500 cfs. Conditions for paddling become more complex and difficult as discharge increases above 500 cfs.
Water
Carry plenty of water for hiking the Grand Portage.
Bears and Other Wildlife
Do not disturb wildlife. Black bears may be encountered at Grand Portage National Monument. Seeing one is a treat, unless it is in your campsite. To avoid an unpleasant encounter, follow bear-country safety measures.
Insects and Ticks
Biting insects can be prevalent from June to September. Wearing long pants and long sleeved shirts will provide some protection from mosquitos, flies, and ticks. Insect repellents are helpful.
Hunting
Hunting is not allowed within the boundaries of Grand Portage National Monument. Hunting is common within Grand Portage Reservation which surrounds monument boundaries. You may observe hunting activity September through December. Please consult a park ranger for information on hunting at the time of your visit.

Nearby Campgrounds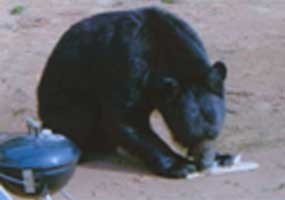 Bear Country Safety
Remember, you are a guest in bear country. Although bears are naturally very wary and avoid people, human-bear contacts have become more frequent when the population increases. When competition for natural food supplies increase, bears tend to expand their searching and sometimes that brings them into campgrounds. When a bear finds food left by campers, she learns that people mean food. Proper care of visitor food supplies is essential to prevent bears from being attracted to campsites and becoming "troublesome" in the eyes of a camper.
To avoid bear problems:
Never feed wild animals.

Hang food-cache away from your tent at least 10 feet off the ground, and at least 4 feet away from the tree trunk.
Prepare food well away from your tent.
Do not eat or keep food, garbage, or unwashed dishes in your tent.
Do not bury or scatter food scraps.
Last updated: February 12, 2016