Virtual Tour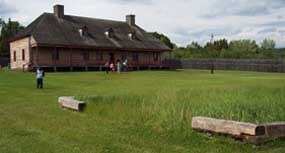 "All the buildings within the fort are sixteen in number made with cedar and white spruce fir split with whip saws after being squared, the roofs are covered with shingles of cedar and pine, most of their posts, doors and windows are painted with Spanish brown. Six of these buildings are store houses for the company's merchandise and furs. The rest are dwelling houses shops compting house and mess house - they have also a warf or kay for their vessel to unload and load at," diary of North West Company clerk John Macdonell - July 5, 1793.
Four wooden structures of the historic depot have been reconstructed using post and beam architecture over their original archeological footprints. The virtual tour provides a preview of the Heritage Center, Historic Depot, Grand Portage trail and Fort Charlotte site and general information about these historic venues and the people who traveled through them.
Click on the images below to tour the different venues of the monument.

Plan Your Visit to Grand Portage National Monument and experience your America at the place where the North West Company and Ojibwe people made history of worldwide importance.

Last updated: April 10, 2015