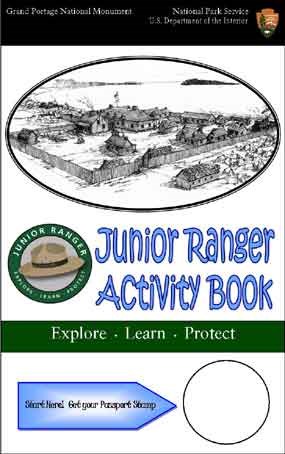 Discover the history of Grand Portage National Monument through the Junior Ranger Program. This is a project for our young visitors to have fun while they learn about the North West Company during the "golden age" of the fur trade in North America and the heritage and lifeways of the Ojibwe people. This is an opportunity for children to not only view the relics of the trade, Ojibwe craftwork and the actual site of the North West Company's Historic Depot, but to apply what they discover and make their visit one they will not soon forget!
How does it work?
When you visit Grand Portage National Monument, ask for the Junior Ranger Activity Book at the information desk in the Heritage Center. The Heritage Center is open year round; the Historic Depot is open from May through October. The book contains activities from both places. The activity book is designed for children 12 or older, but also works for younger children by answering fewer questions from each activity. You are asked to complete two of three different activities.
Complete the activities in the book and, if possible, attend a ranger guided walk or talk, then, return to the information desk with your completed book. A park ranger will check your answers, present a personalized Grand Portage National Monument Junior Ranger certificate and badge, a copy of a voyageur contract from 1802 and recite the Junior Ranger Pledge with you.
Through the Junior Ranger program, children and their families are engaged together in fun, hands-on, self directed learning activities that enhance their visit to Grand Portage, create fond, long-lasting memories and promote new appreciation for our national treasures.
Completed books may also be mailed to Grand Portage National Monument. We will send back your completed book with the Junior Ranger Badge and certificate you have earned.
Junior Ranger Program
Grand Portage National Monument
PO Box 426
Grand Portage, MN 55605
218-475-0123