For Kids
It doesn't matter what time of year you come, there are always plenty of activities for kids.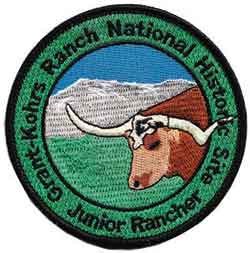 A free Junior Rancher booklet is available at the Visitor Center for kids ages 6-12. A Little Rancher booklet is available for kids ages 5 and under. And an Honorary Rancher booklet is available for anyone 13 years and older. You can also download the booklets from home before your visit to the park. They all include activities to complete during your visit at the ranch. Complete the required activities and attend a ranger program. Then, take the completed booklet to any National Park Service ranger who will check your answers, sign your booklet, and award you with your official Grant-Kohrs Ranch National Historic Site Junior Ranger badge or patch.
Stop by the Visitor Center for more details.
In addition to becoming a junior rancher, kids will have the opportunity to try on cowboy clothes, practice roping Woody the wooden steer, try walking on wooden stilts just like the Kohrs children did over 100 years ago, and of course visit with the chickens, horses, and cattle. The ranch is a great place for kids to learn about cowboys and the old West and have a fun time doing it.


Last updated: March 31, 2012