Be A Junior Ranger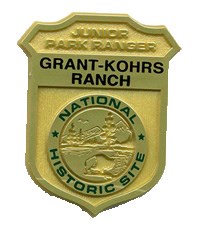 What is a junior ranger?
A junior ranger attends ranger programs, completes activities in a workbook, and promises to take care of National Park Service sites like Grant-Kohrs Ranch NHS. It is a great way to explore, learn and have fun in the park. When you are a junior ranger, you can teach others how to care for and protect special places like this.
Grant-Kohrs Ranch tells the story of the open range cattle business. So, instead of becoming Junior Rangers children can become Junior Ranchers! We offer three Rancher programs. Kids 5 and under can become Little Ranchers, kids ages 6-12 can become Junior Ranchers, and anyone 13 years and older can become Honorary Ranchers.
How do you become a junior ranger?
Free booklets are available at the Visitor Center. They all includes activities to complete during your visit at the ranch.and Attend a ranger program and complete the required activities. Then, take completed booklets to the Visitor Center, where a National Park Service ranger will check your answers, sign your booklet, and award you with your official Grant-Kohrs Ranch National Historic Site Junior Ranger badge or patch, or a pin for Honorary Ranchers. Stop by the Visitor Center for more details.


Last updated: February 6, 2018