Guest Speakers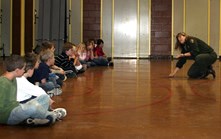 Sign up to have a park ranger come to your classroom to present one of our curriculum based education programs. The programs will be offered November through April on Monday-Wednesday. Programs last from 45 minutes to 1 hour. If you are interested in scheduling a program please contact the Education Specialist or call 406-846-2070 ext. 230.

Brand Bingo
K - 2nd grade
Through the use of the brand board and playing a game of BRAND bingo, students will learn what a brand is, why ranchers brand their horses and cattle, and how to read a brand.
Photo Explore
1st - 3rd grade
Students will learn what photos of the past can tell us about people's lives.
Where's the Beef?
2nd - 4th grade
Many items we use are made from beef by-products. Students will learn how people use and benefit from cattle every day.
Habitats
3rd - 4th grade
Introduces students to the four components of a habitat, and the four habitats of the ranch.
Cowboy Gear
3rd - 5th grade
Students will gain an awareness of cowboy life by studying authentic cowboy clothing and equipment.
A Brand Is Forever
4th - 6th grade
For at least 4,000 years man has marked cattle with branding irons. Students will learn the history of branding and have the opportunity to create their own cattle brands.
Native Games
K-6th grade
Students will learn traditional games and find out how games were important to every tribe's survival.
Waste Not
4th – 6th grade
By viewing several authentic Native American artifacts, students will learn what the artifacts were made from and used for.
Native Americans Then and Now
5th – 8th grade
Students will learn historic characteristics of tribes, examine stereotypes, and learn about contemporary American Indians in Montana.

NOTE TO TEACHERS: Educational activities are meant to further your educational objectives. They are not intended to be primarily recreational, although we hope everyone has fun learning! We want teachers to be involved. We are open to your ideas and suggestions for developing programs to meet your needs.
The schedule does fill up, so please reserve programs early. All programs are free of charge to our local community schools
Last updated: January 17, 2018