Fees and Passes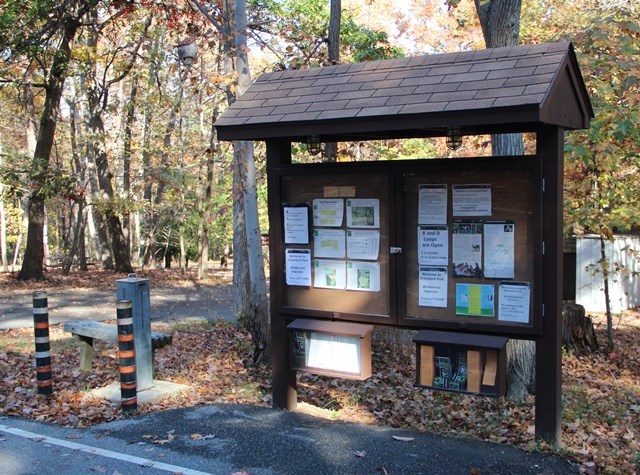 You will need a reservation to stay at the campground.
When you arrive with a reservation, go directly to the specific campsite. Your campsite will have a Reservation placard with your name and dates of reservation.
If you do not have a reservation, select a site that does not have a reservation. You may call 1-800-365-2267 or reserve that specific site online on your smart phone.
The campground is now a part of the cash free park where cash or checks are no longer accepted onsite.

The campground fee is $20.
Remember that 80% of the fees go to Greenbelt Park.The campground is open all year round.

Reservations are year round.

Starting March 15, 2018 Greenbelt will no longer sell the Annual pass, Senior Lifetime, or Senior Annual pass.

The Military, Access and Every Kid in a Park passes are still available at the Greenbelt Park Ranger Station seven days a week. The Ranger Station hours are 8:00 a.m. - 3:45 p.m. Please call 301-344-3944 for more information.
Greenbelt Park
Welcomes 4
th
Grade Students Through Every Kid In a Park Initiative.
New National Program Encourages Families and Classes to Visit National Parks.
To receive their free pass for national parks, fourth graders can visit the
Every Kid in a Park website
and play a game to access their special Every Kid in a Park pass. Fourth graders and their families can then use this pass for free entry national parks and other federal public lands and waters across the country from September 1st, 2017 through August 31, 2018. The website also includes fun and engaging learning activities aligned to educational standards, trip planning tools, safety and packing tips and other important and helpful information for educators and parents.
PASS has been renewed for the 2018-19 year.
The Every Kid in a Park permanent pass is available at the Greenbelt Park Ranger Station. You need to print out the pass online to come in and exchange it for the permanent pass. The Greenbelt Park Ranger Station is open seven days a week from 8:00 a.m. to 3:45 p.m. It is closed on Thanksgiving, Christmas, and New year's Day. For more information, please call the Greenbelt Park at 301-344-3944.
This is a lifetime pass for U.S. citizens or permanent residents with permanent disabilities. Documentation is required to obtain the pass. Acceptable documentation includes: statement by a licensed physician; document issued by a Federal agency such as the Veteran's Administration, Social Security Disability Income or Supplemental Security Income; or document issued by a State agency.

Last updated: July 8, 2018