Refreshing Roads in Greenbelt Park
Park Central Road, the Sweetgum Picnic area, and the Dogwood trail parking area will reopen sometime in September due to park construction delays. The campground plans to reopen in late September.
Thank you for your patience and understanding!
Record of Determination for a Temporary Closure of Greenbelt Park Campground and Laurel Picnic Area for Roadway Reconstruction in Greenbelt Park

The National Park Service is completely replacing roads, parking areas and a bridge in Greenbelt Park. Some roads and the park campground will reopen in late to mid September, and the work is scheduled to be complete in late-September 2021. While the work is happening, visitors can hike on park trails, but picnic areas, comfort stations and our campground are closed. Drivers can park across Greenbelt Road (MD 193) on Walker or Capitol Drives and walk across the street to hike on trails.
While access is limited, the NPS is completing construction at:
Park Central Road
Laurel Picnic Area
Holly Picnic Area
Goodluck Road Parking Area
Dogwood Parking Area
Sweetgum Picnic Area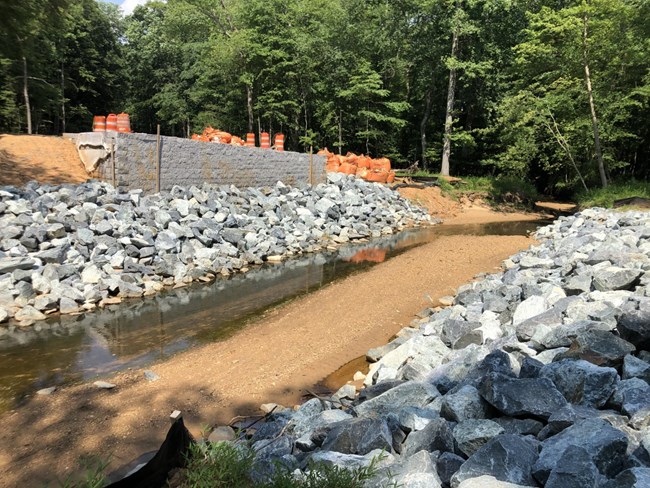 The NPS is also removing hazardous trees and coordinating with the Washington Suburban Sanitary Commission (WSSC) to do sewer work. Completing this work now means we will be able to keep roads, picnic areas, and our campground open in the future.
An important element of our work to complete construction and accommodate the WSSC was to plan for the replacement of Still Creek Bridge. The new bridge and new culverts throughout the park will help improve the flow of water along Still Creek. We hope these changes will improve water quality and enable fish or other aquatic life to repopulate the northern and western portions of Still Creek.
Last updated: August 24, 2021