Invasive Plant Removal
Update- We are postponing the Invasive Plant Removal until further notice due to Covid-19.
2b- Fill out a GROUP volunteer agreement form and bring it with your group.

4- Have fun and know you are helping preserve Greenbelt Park for this and future generations.
4- Bring gloves, sturdy shoes and tick spray (we will have gloves and spray at the park).
5- Meet us at Park Headquarters and bring some friends.
Come and help preserve Greenbelt Park.
Join us each first Saturday of the month to help remove invasive plants from the park. This partnership with the University of Maryland involves identifying and removing different invasive plants in the park. This hands-on volunteer project is going strong thanks to Volunteer Leader Tom Crone.

Thanks to the efforts of volunteers and the University of Maryland students, Greenbelt Park is preserving the park for future generations.

It is not a difficult or dangerous task. Please bring insect and/or tick repellant in the Spring and Summer.

Our volunteer leader will teach and show the invasive plants to be removed. This is time consuming and numerous hands are needed.

Thanks to this project and the many volunteers, Greenbelt Park is a prime example of removing invasives before they can take over and destroy the native plants.
Participants meet at the Park Headquarters at 11:00 a.m. on the first Saturday of each month.
Large groups, please call ahead at 301-344-3948.
2021
Saturday June 5
Saturday July 3
Saturday August 7
Saturday September 4
Saturday October 2
Saturday November 6
Saturday December 4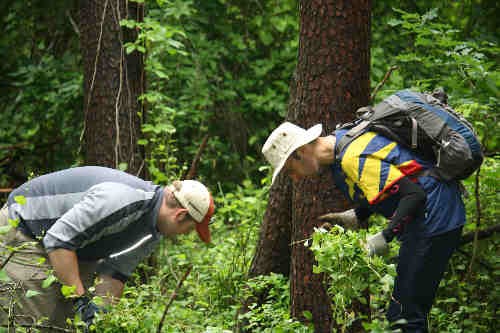 Current Volunteer Opportunities
Last updated: May 6, 2021