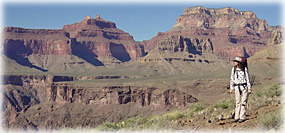 Overnight backpacking in Grand Canyon provides a degree of solitude, wilderness, and silence. Fifteen trails and numerous obscure routes provide access to the inner canyon.

If you wish to camp anywhere in the park, other than in developed campgrounds on the North Rim or South Rim you must obtain a permit from the Backcountry Information Center.

Each year Grand Canyon National Park receives approximately 30,000 requests for backcountry permits. The park issues 13,000 permits, and close to 40,000 people camp overnight in the backcountry at Grand Canyon.
If you would like to join a guided hiking and/or camping trip that is educational in nature, consider
the Grand Canyon Field Institute. They offer fun and informative educational classes and tours for everyone, from seasoned backpackers to families with children on their first visit to Grand Canyon.