North Rim Ranger Programs

North Rim Ranger Programs: May 27 - October 15

North Rim programs are given May 15 through October 15 of each year.
All outdoor programs are subject to cancellation due to inclement weather or when lightning danger is present...
Note: Children must be accompanied by an adult on all programs. All programs are free of charge.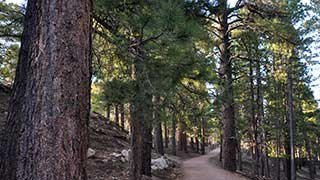 8:30 am – 9:15 am Daily (5/15-10/15)
Nature Walk
Meet at: Roaring Springs Canyon Overlook
Learn about the natural processes that sustain ponderosa pine and aspen forests.Start your morning with a relaxed 1.5-mile (2.4 km) walk with some elevation gain and loss.
Accessible, 45 Minutes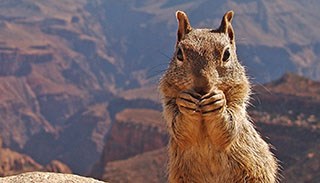 11:30 am – 11:50 pm Daily (5/27-10/15)
Ranger's Choice
Meet at: Roaring Springs Canyon Overlook.
Join a ranger to hear their favorite stories about Grand Canyon. Topics vary daily and may include wildlife, geology, and human history.
Accessible, 20 minutes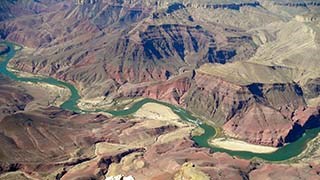 3 pm - 3:45 pm Daily (5/27-10/15)
Geology
Meet at: Grand Canyon Lodge Veranda
Learn how Grand Canyon formed during this introductory talk.
Accessible, 45 Minutes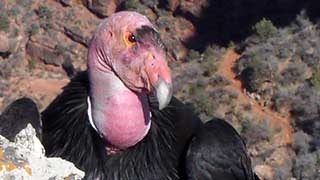 4:00 pm – 4:45 pm Daily (5/27-10/15)
Condor Talk
Meet at: North Rim Campground Ampitheater
What has a 9-foot (2.7 m) wingspan and a face only a mother could love? The California condor. Come discover their life and death story and the science that saved this incredible bird. Family-friendly program.
Accessible, 45 Minutes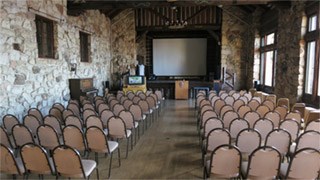 8 pm – 9 pm Daily (5/27-10/15)
(Grand Canyon Lodge auditorium)
Evening Program
A variety of programs explore the scenic, scientific, and cultural aspects of this special landscape. Nightly topics posted in the lodge, visitor center, and campground. Bring your questions and arrive 15 minutes early for an "Ask a park ranger" discussion.
Accessible, 60 minutes.
Learn More About the North Rim of Grand Canyon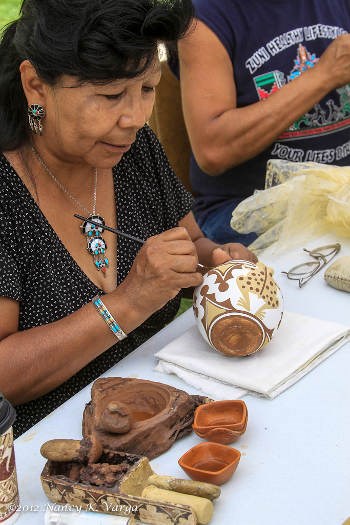 North Rim Heritage Days
Heritage Days took place August 9 and 10, 2018. The event celebrated the rich cultural diversity of the Colorado Plateau, the Arizona Strip and the Grand Canyon.
Native American Heritage Days began in 1993 as "Paiute Days" which celebrated the Paiute as the last Native American group to occupy the North Rim of what would become Grand Canyon National Park. In 1997, the event was expanded to include all Native American groups with cultural ties to the Grand Canyon. Today, eleven tribes maintain strong cultural connections to the canyon.
Throughout Native American Heritage Days, special programs were offered by tribal members and non-tribal members on a variety of subjects, ranging from ethno-botany to Native American music and dance. Programmed activities took place in various locations throughout the North Rim developed area.
Schedule of Events, Thursday August 9

8:30 am, Nature Walk
Roaring Springs Overlook, North Rim

10 am to 3 pm, Cultural Demonstrations
Grand Canyon Lodge East Lawn, North Rim

1 pm, Flute Performance by Milton Tso
Grand Canyon Lodge Sun Room, North Rim

6 pm, Hoop Dance and Music
Grand Canyon Lodge East Veranda, North Rim

7 pm, Traditional Hopi Games
North Rim Campground Amphitheater

8 pm, Diné Song and Dance
Grand Canyon Lodge Auditorium, North Rim
Schedule of Events, Friday August 10

10 am to 3 pm, Cultural Demonstrations
Grand Canyon Lodge East Lawn, North Rim

11 am Diné Song and Dance
Grand Canyon Lodge East Veranda, North Rim

1 pm, Flute Performance by Milton Tso
Grand Canyon Lodge Sun Room, North Rim

6 pm, Hoop Dance and Music
Grand Canyon Lodge East Veranda, North Rim

7 pm, Hualapai Dances and Songs
North Rim Campground Amphitheater

8 pm, Hopi Culture and Tradition
Grand Canyon Lodge Auditorium, North Rim
Last updated: August 13, 2018