Special Event Calendar
Desert View Cultural Demonstrator Series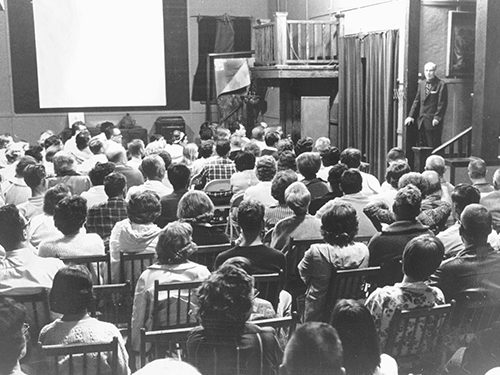 The Amazing Kolb Brothers
A Grand Life at the Grand Canyon Exhibit
Now through September 5, 2018, at historic Kolb Studio near Bright Angel Trailhead
At first glance, Kolb Studio appears to be an old house perched on the rim of the canyon.
However, if you step inside, or see it from Bright Angel Trail on your hike out of the canyon, you get the sense it is much more than that.
This is the Victorian home of the Kolb Brothers who created a lasting legacy of adventure, exploration, family love, and amazing Grand Canyon photography that will last as long as the Canyon itself.
See Unusual Antique Cameras
Watch Their Movie That Played Continuously for 61 Years
This exhibit is presented by the Grand Canyon Association, Cline Library and Grand Canyon National Park. Additional funding is provided by the Babbitt Foundation, Pink Jeep Tours, Las Vegas and Sedona and Ms. Penny Schultz.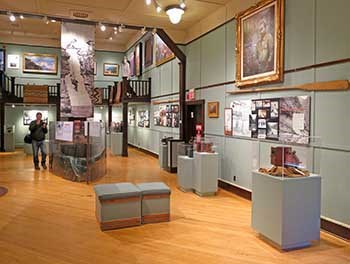 "The Amazing Kolb Brothers" exhibit returned on January 20, 2018
Take a
virtual tour
of this exhibit
here.
View
Photos of Kolb Studio
and recent
historic renovation work
Learn about the
Kolb Brothers Collection
at Northern Arizona University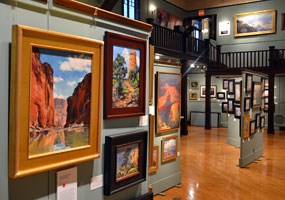 2018 Grand Canyon Celebration of Art
Exhibit in Kolb Studio - September 16, 2018 through January 14, 2019
Hosted each year by the Grand Canyon Association, the Grand Canyon Celebration of Art is an annual event that includes 6 days of art related events followed by a
3 month long exhibition in Kolb Studio
on the South Rim of Grand Canyon National Park.
The 10th Annual Celebration of Art will feature over 25 artists from around the country who will engage in a plein air competition and exhibition.
Every September, park visitors and residents have an opportunity to watch artists paint Grand Canyon as they seek to represent the shifting light and shadow, amazing land forms, and vibrant colors of this vast landscape.
Each artist brings a completed studio piece with them and then spends a number of days creating more artwork on the South Rim, on the North Rim, at Phantom Ranch and at Indian Garden during the
Plein Air at the Canyon Event.
At the end of the week, on Saturday, the
Quick Draw Event
takes place in the historic district of Grand Canyon Village. During the auction that immediately follows the Quick Draw event, park residents and visitors have the opportunity to bid on the paintings that they watched being created that morning, and to bring a piece of Grand Canyon home.
The
2018 Exhibit and Sale will run from September, 16, 2018 through January 14, 2019.
Proceeds from this event support the goal of funding an art venue at the South Rim of the Grand Canyon. This permanent home will ensure that future generations of park visitors will be able to view the stunning art collection in the Grand Canyon National Park Museum and Grand Canyon Association Collections.
For information and schedule for the
2018 Celebration of Art
visit:
https://www.grandcanyon.org/events/celebration-of-art-2018/
Visit our keyboard shortcuts docs for details
Duration:

1 minute, 20 seconds
Every September, a group of artists gather at Grand Canyon National Park for the Celebration of Art presented by Grand Canyon Association. Proceeds from the event go towards establishing a permanent art venue at Grand Canyon. Visitors may watch and learn from the Plein Air painters. (Video clip from "Grand Canyon a Journey of Wonder.")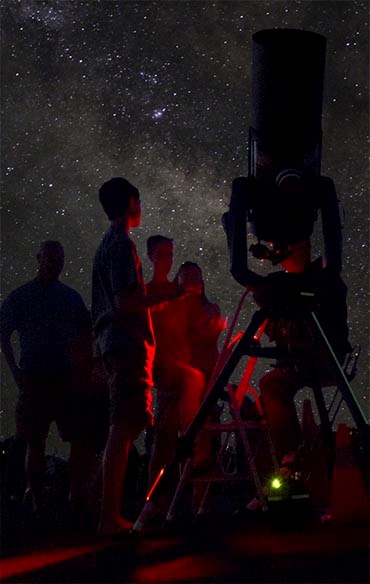 2019 Grand Canyon Star Party
June 22–29, 2019

For eight days in June, park residents and visitors explore the wonders of the night sky on Grand Canyon National Park's South Rim with the Tucson Amateur Astronomy Association and on the North Rim with the Saguaro Astronomy Club of Phoenix.

Amateur astronomers from across the country volunteer their expertise and offer free nightly astronomy programs and telescope viewing.

Due to its dark skies and clean air, Grand Canyon offers one of the best night sky observing sites in the United States.

The event is free (Other than paying the park entrance fee of $35 per vehicle - good for 7 days of coming and going between South and North Rims of the park.)

No reservations needed except for astronomers wishing to share their telescopes, who register through the astronomy clubs sponsoring the event.

Come for a night, or for the whole event. Explore Grand Canyon by day and the universe by night!

Learn more about the 2019 Grand Canyon Star Party
Last updated: August 13, 2018