Date:
October 21, 2009
Contact:
Maureen Oltrogge
, 928-638-7779
Contact:
Lori Makarick
, 928-226-0165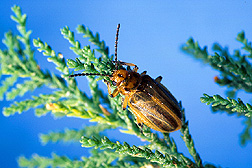 Grand Canyon, Ariz. –Biologists and ecologists from the National Park Service and the Tamarisk Coalition, based in Grand Junction, Colorado, recently found the first tamarisk leaf beetle (Diorhabda spp.) in Grand Canyon National Park. The tamarisk leaf beetle, which feeds specifically on tamarisk, was approved for release as a biological control agent in certain areas of the west in 2001 to help manage tamarisk. Also known as salt cedar, tamarisk (Tamarix spp.) is a highly invasive plant native to Eurasia that grows along the Colorado River and in riparian habitats throughout the southwest. Tamarisk, which is particularly successful in areas with altered flow regimes, impacts water resources, native plant diversity, wildlife habitat, and recreation, and poses an increased wildfire risk where it grows in dense stands.
The National Park Service and numerous partners began a tamarisk management program in Grand Canyon National Park in 2000. The effort focuses on the park's side canyons and tributaries, where a natural flow regime occurs. To date, approximately 270,000 trees have been removed from over 6,000 acres in the park. Park biologists and volunteers continue to maintain those areas, and have documented the important recovery of native vegetation. Lori Makarick, the park's Vegetation Program Manager, stated, "We plan on continuing this program, and in fact, have people removing tamarisk from the park's backcountry this week." She added, "Now that the tamarisk beetle has been found in the park, we also need to make sure we are prepared to move forward with active native plant restoration efforts in the Colorado River Corridor in the next few years."
Tamarisk beetle monitoring along the Colorado River in Grand Canyon National Park was conducted from August 9-24. During monitoring, small numbers of beetle larvae were found on tamarisk trees along both sides of the river corridor beneath Navajo Bridge and on river left at Brown's Inscription, twelve miles downstream of Lees Ferry. National Park Service biologists found adult beetles six miles downstream of Lees Ferry in September.
Researchers previously thought that this species of the tamarisk leaf beetle would restrict its range to above the 38th parallel, which is near the upper end of Lake Powell. The beetles were not approved for release within 200 miles of southwestern willow flycatcher habitat, an endangered species which is known to nest in tamarisk - a dominant species in the Colorado River corridor. Tamarisk leaf beetles are now causing defoliation of tamarisk trees further south than originally anticipated. According to Dr. Dan Bean of the Colorado Department of Agriculture, the small population of beetles recently documented in Grand Canyon National Park is unlikely to overwinter successfully. However, it appears likely that as beetle numbers increase a viable reproducing population will be established in Grand Canyon within the next several years.
The Tamarisk Coalition, whose mission is to provide education and technical assistance for the restoration of riparian lands in the west, and the Colorado Department of Agriculture are collaboratively monitoring the tamarisk beetle in Colorado, Utah and Arizona. They are tracking its dispersal, establishment, and expansion and providing information on impacts of the beetle on riparian native and non-native plant ecology and wildlife habitat. Tim Carlson, Tamarisk Coalition Research and Policy Director, notes, "Monitoring of beetle movement and vegetative response are critically important, not only to understand the direct and indirect impacts of the beetle on riparian ecosystems, but in order to implement adaptive management activities aimed at re-establishing native vegetation." According to Lori Makarick, this will become increasingly important in areas along the Colorado River corridor that provide critical habitat for threatened and endangered species.
The continued spread of the tamarisk leaf beetle throughout the Colorado River in Grand Canyon National Park may have dramatic impacts on the canyon's complex riparian ecosystems. Growing infestations of the tamarisk leaf beetle in Grand Canyon may defoliate and kill tamarisk trees that now dominate the river corridor. While the demise of this nonnative invader is welcome, it will pose new management challenges such as: how to remove the standing dead trees, how to assess rapid changes in wildlife habitat, and how to successfully restore native plant communities. Park resource managers are eager to expand and develop new partnerships with other federal land management agencies and organizations to assist with the development of long-term plans to restore native ecosystems in the Colorado River corridor both within and outside park boundaries. Plans will need to address potential impacts to species of special concern, such as the southwestern willow flycatcher and the wide array of insects and wildlife that currently utilize tamarisk. The initiation of the tamarisk beetle monitoring effort was the first step in a pro-active approach that will include coordination among stakeholders involved in planning and implementing riparian restoration projects.
Martha Hahn, Chief of Science and Resource Management, stated, "This is a situation where there are no boundaries and we will need to work with all land management agencies within the greater Colorado River watershed that wildlife habitat and sensitive species planning is integrated into all of our planning efforts and decisions.
Superintendent Steve Martin said, "Park resource management staff, as well as staff from other federal land management agencies and partner organizations has been very successful in controlling tamarisk in the park's side canyons. With continued coordination and stakeholder involvement, we should be successful in actively restoring native plant communities and wildlife habitat in the river corridor."
For additional information, please contact Lori Makarick, Vegetation Program Manager at Grand Canyon National Park at (928) 226-0165 or Tim Carlson, Research and Policy Director at the Tamarisk Coalition (970) 256-7400 www.tamariskcoalition.org.
-NPS-