Ninetieth Anniversary Celebration Opens Door to New Perspective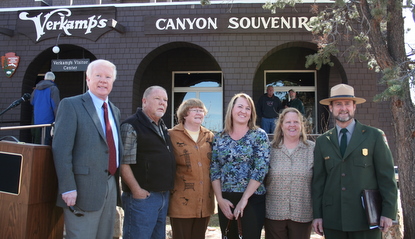 News Release Date:
March 13, 2009
Contact: Shannan Marcak, 928-638-7958
Grand Canyon, AZ. – On Thursday, February 26, park staff, partners and friends gathered at the new Verkamp's Visitor Center on the South Rim to celebrate Grand Canyon's 90th year as a national park and to commemorate the re-opening of an historic structure as a park visitor center.
As Park Superintendent Steve Martin noted in his remarks, the Grand Canyon was designated as a national park when President Woodrow Wilson signed Senate Bill 390 on February 26, 1919. That date, 90 years past, seems like a long time ago when viewed through the narrow lens of a human lifespan. Yet, a mere stone's throw from where the Superintendent was speaking, the depths of the Grand Canyon yawned.  According to geologists, almost two billion years of Earth's history lie open and exposed in the canyon; and according to archeologists, along the river where the oldest rocks are found, so too, is evidence of human activity in the park, some of it dating back almost 12,000 years. Clearly, the history of the canyon needs to be viewed through a wider lens.
As each speaker rose to share his or her thoughts on the importance of the park's 90th anniversary, it became apparent that a broader perspective is also needed to conceive of the many values and meanings that people attribute to the park. In a pre-event interview available on the park's web site, Superintendent Martin said of the park, "we are a World Heritage Site, we are a national park, we are one of the seven wonders of the world." To some, the park is a tourist destination, an economic driver, a business partner or a neighbor. To others, it is a natural shrine, a wilderness, a classroom or even a playground. In remarks read by his Congressional District Director Ruben Reyes, Representative Raul Grijalva refers to the canyon as "a natural treasure."
Yet, for all of those perspectives, few who visit the park think of it as a place to live, or raise a family, or go to school. Did you know that it takes more than 2,500 people to provide all of the services that the park's approximately 4.5 million visitors require each year? Because of the long distance to the nearest community where housing is readily available, almost 1500 of those people live their day-to-day lives inside the park. They have potlucks and walk to the grocery store here; they send their children off to school each morning and attend school board meetings at night here; they work together to build better lives for themselves and for their families in a place others view as only a temporary destination. Another definition for the Superintendent's list could be, "we are a community."
That is the story that the interpretive displays at the new Verkamp's Visitor Center tell. The building itself used to house not only Verkamp's Curios, but the Verkamp family; and the structure, the curio shop and the family are all indelible parts of the canyon's history. Several members of the family were present for the celebration; and some even took the time to share snippets of their family's history during the ceremony. What better place to celebrate the park's first 90 years of history or to introduce the visiting public to a different perspective on the Grand Canyon than those they may have contemplated before? If there is evidence of 12,000 years of human activity in the park, then people have lived and died here for thousands of years; and all of them probably participated in the types of community activities that we take for granted in our day-to-day lives. That means that the story of community at the Grand Canyon is really very old, it is only the telling of the story that is new.
The next time you visit the Grand Canyon, or any national park, take a moment to stop and consider the many people who have come before you, not just as travelers, vacationers or passers-through, but as residents, people who made their homes and lived their lives there. The story of community is, in reality, a story inherent in almost every landscape, so why wait for a special anniversary to explore it.
See below for links to audiocasts of Superintendent Steve Martin's pre-event interview and Susie Verkamp's and John Verkamp III's post-event interviews. To learn more about visiting Grand Canyon National Park or about the park's history, please visit the park's web site at www.nps.gov/grca, or call 928-638-7888.
-NPS-

Park Superintendent Steve Martin's pre-event interview:
(7m48s) -
PLAY NOW
You can also
Download the Transcript
(17kb PDF File)
Download link (7.14MB MP3 File) cut and paste this link into your media player:
https://www.nps.gov/grca/photosmultimedia/upload/20090220MartinPod.mp3

John Verkamp III's "day in the life..." remarks: (5m50s) - PLAY NOW
You can also Download the Transcript (36kb PDF File)
Or you can cut and paste this link (4.67MB MP3 File) into your media player:
https://www.nps.gov/grca/photosmultimedia/upload/John_Verkamp_TRANSCRIPT.pdf


Susie Verkamp on being part of the Grand Canyon community: (4m41s) -
PLAY NOW
You can also
Download the Transcript
(35kb PDF File)
Or you can cut and paste this link (3.75MB MP3 File) into your media player:
https://www.nps.gov/grca/photosmultimedia/upload/Susie_Verkamp_INTERVIEW.mp3
Last updated: March 8, 2018