Grand Canyon National Park Superintendent Steve Martin Receives Resource Stewardship Award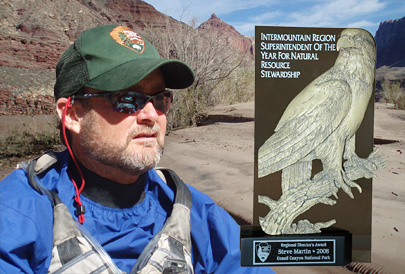 News Release Date:
June 1, 2009
Contact: Shannan Marcak, 928-638-7958
Grand Canyon, Ariz. – On May 13, at a recent meeting of area superintendents, Grand Canyon National Park (GRCA) Superintendent Steve Martin received the Regional Director's Superintendent of the Year Award for Natural Resource Stewardship from Intermountain Regional Director Mike Snyder.
This prestigious award is an annual recognition for outstanding contributions in natural resource management by a National Park Service (NPS) superintendent.  According to a congratulatory letter from Regional Director Snyder sent out when the award was announced, Superintendent Martin's award acknowledges his "exemplary commitment to conservation leadership in the National Park Service."   
The letter went on to say that Superintendent Martin has "revitalized the National Park Service's role in the Glen Canyon Dam Adaptive Management Program (AMP) process", a primary reason why he received this year's award.  According to Regional Director Snyder, "by taking immediate action and bringing together key agency and departmental leaders," Martin was "able to influence a collaborative decision to move forward with the high flow" which occurred in March of 2008.  Prior to Superintendent Martin's arrival at the Grand Canyon in spring of 2007, another high flow experiment at Glen Canyon Dam had not been anticipated for several years.
High Flow Experiments are intended to inform managers about the effectiveness of using high flows from Glen Canyon Dam to improve natural, recreational, and cultural resources in Grand Canyon National Park.  Current science indicates that higher than normal flows, such as those that would have naturally occurred during spring run-off prior to the existence of the dam, are required to deposit sand up and onto eroded Grand Canyon sandbars.  These sandbars serve as camping beaches for river runners and hikers, provide sediment needed to protect archaeological resources from erosion and weathering, and create habitats used by native fishes, particularly the endangered humpback chub (Gila cypha), and other wildlife. The experimental high flows are designed to build upon existing scientific knowledge to inform managers about the efficacy of using high flows from the dam to mimic the natural conditions that create these sandbars and backwaters.
Throughout his 34 years in the NPS, Mr. Martin has been recognized as a champion of natural resource management, both at the field level and as a senior manager.  As Regional Director Snyder said when he handed Martin his award, "your commitment to science-based decision-making and adaptive management have made a great contribution to the Service and the natural resources at Grand Canyon, and provide a superb example for others to follow."  Congratulations Superintendent Martin.
For more information, please contact Grand Canyon Public Affairs Specialist Shannan Marcak at 928-638-7958.  For more on the 2008 High Flow Experiment, please visit the park's web site at https://www.nps.gov/grca/naturescience/high_flow2008.htm.
-NPS-
Last updated: December 28, 2017