Grand Canyon's Longtime Volunteer Sjors Horstman Receives Governor's Lifetime Achievement Volunteer Service Award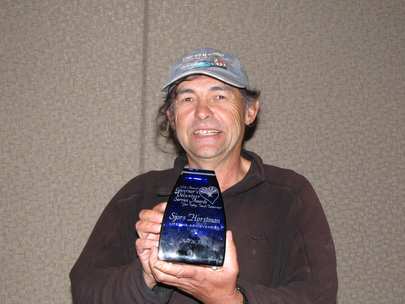 News Release Date:
May 13, 2013
Contact: Vanya Pryputniewicz, 928-638-7958
Contact: Todd Nelson, 928-638-7307
Contact: Maureen Oltrogge, 928-638-7779
Grand Canyon, Ariz. - Grand Canyon National Park's longtime volunteer Sjors Horstman recently received a Governor's Lifetime Achievement Volunteer Service Award - the highest volunteer award in the state of Arizona.
The Arizona Governor's Volunteer Service Awards were established in 2002 to recognize volunteer efforts that strengthen communities and improve quality of life for Arizonans. Each year, eight outstanding individuals and organizations are acknowledged in an effort to build an ethic of service and volunteerism throughout the state.
Recipients for the awards are nominated in eight categories; and a statewide panel of judges evaluates the nomination for need, action, innovation and impact. Sjors received his award in the Lifetime Achievement Award category, for individuals who have exemplified the ideals of service over the past 25 years or more. Sjors signed up as a volunteer at Grand Canyon National Park on May 19, 1987 and as of March 31, 2013 he has 49,453 volunteer hours at Grand Canyon National Park.
Sjors received his award for his epitome of customer service for the National Park Service at Phantom Ranch. He is philosophically tied into the mission of the NPS and goes out of his way anytime of the day to support the needs of the visitors. During medical emergencies, Sjors is often the only park staff around, providing basic emergency medical assistance to visitors and coordinating rescues with park dispatch. "As a naturalist and interpreter, Sjors can fill in for anyone," stated Todd Nelson, Volunteer Coordinator for Grand Canyon National Park. Nelson added "His breadth of knowledge about the park is second to none. During his time here Sjors assisted in virtually every aspect of the National Park Service operation at Phantom Ranch ranging from cleaning bathrooms, answering visitor questions, assisting law enforcement and providing life-saving first aid to hikers/backpackers. There are few who have worked at Phantom Ranch that have left a more lasting mark."
-NPS-
Last updated: February 24, 2015