Grand Canyon Wilderness Coordinator Recognized as Leader in Wilderness Stewardship for Intermountain Region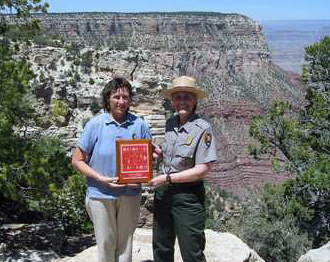 News Release Date:
May 26, 2011
Contact: Maureen Oltrogge, 928-638-7779
Contact: Patrick O'Driscoll, 303-969-2839
Grand Canyon, Ariz. - The staff advocate for the wild character of Grand Canyon National Park's vast backcountry lands has won a National Park Service (NPS) regional wilderness stewardship award for 2010.
Linda Jalbert, the park's wilderness coordinator and recreation planner, was recognized as the "Leader in Wilderness Stewardship" for the eight-state, 91-park Intermountain Region (IMR) of the NPS. In announcing honors for staffers in five of the region's parks and programs, Intermountain Regional Director John Wessels singled out Jalbert for building an awareness and care for wildland characteristics into the complex logistics of managing Grand Canyon's many and varied park activities.
As the park's wilderness coordinator for more than a decade, Jalbert integrates Minimum Requirements Analysis (MRA for short) into search-and-rescue operations, resource management actions, trail work and other tasks in Grand Canyon's wild backcountry. Whenever work is scheduled within the more than 1.1 million acres of Grand Canyon lands proposed for formal designation as wilderness, an MRA is conducted to determine the least-invasive, lightest-impact ways to accomplish the task.
 "Linda inspires us to be conscious of our activities and be better stewards in caring for these special places," stated Martha Hahn, Chief of Science and Resource Management. "I'm pleased that Linda's efforts have been recognized by the Intermountain Region as well as her peers."
Jalbert approaches each MRA as a learning opportunity. She challenges each project leader to take an active role. Her collaborative approach deepens the involvement of those working and conducting science in the backcountry and builds a better park-wide understanding of wilderness preservation, wilderness character, and how MRAs lessen the effect of park actions on the canyon's wildness.
Jalbert also is generous with her skills, knowledge and time with others in local, regional and national wilderness activities. She has served more than five years on the region's Wilderness Executive Committee, in on NPS's Visitor Use and Capacity Task Group, and is an active member of the River Management Society and the Recreation Resource Planners Association.
By policy and practice, NPS manages most of Grand Canyon National Park as official wilderness, even though those wild lands have not yet been formally designated as such by Congress. The NPS will take no action that would diminish the wilderness eligibility of an area possessing wilderness characteristics until the legislative process of wilderness designation has been completed. Park wilderness actions follow the Wilderness Act of 1964, which requires that such lands remain "untrammeled," natural and undeveloped, so as to provide solitude or "primitive and unconfined" recreation opportunities. Those attributes are among the principal attractions for Grand Canyon's nearly 4.5 million annual visitors. 
-NPS-
Last updated: February 24, 2015